Lesson 5: Applying Construction to Animals
Brown Bear Demo
Step by step
This is a more traditional, three-mass approach. Cranial mass, big ole ribcage, and a pelvis. As I mentioned in the intro video, keep an eye on the size and angle of your pelvis and ribcages. The cranium is generally a sphere, but the other two will be squashed and stretched and set at angles to match the masses they represent.
Also, something that students seem to forget frequently is that animals are pretty similar to humans. Our ribcages are about half the size of our torso - so are theirs, usually.
Sometimes I'll even do this before drawing the cranium - connecting the ribcage and pelvis into a single sausage mass. Make sure your width through the center of this sausage remains consistent - if the bottom dips down to match a sagging belly (which it often will), the top should dip to match it. I've also drawn two contour curves along my cranial mass to help reinforce the illusion of 3D form. This kind of cross-contour is really helpful in determining and constantly reminding yourself where the center line of the head rests, and giving you a good landmark to rely upon when building up more forms.
The muzzle is basically just a box at this point, though with some animals it may be a little more complex (basically with a few more faces), but it's generally this sort of thing. Just carefully observe your reference and try to identify where the faces of your muzzle-form turn. Regardless of how many faces there may be in the form, those faces tend to be very planar, so you can see where one stops and another begins. Make sure you're aware of the cranium's curvature where the muzzle-box connects to the cranial mass. That connection is just about always going to have a nice curvature to it.
Remember that everything is a matter of carving or connecting more forms - the ears, just like the muzzle, connect to the cranial mass and must therefore have connections that curve along the initial ball's surface. Additionally, be sure to carve out eye sockets so that when you do ultimately place eyes on the head, they're not simply floating arbitrarily in space.
Okay, back to the body. So you'll notice that I've drawn in a mass for each shoulder, largely to help define how and where the legs themselves attach to the torso. I've also built up some additional forms across the back, bridging the shoulders across the spine. This isn't something I do for all animals, it's just that this bear in particular had some really exaggerated forms. Always let your reference image guide your decision making. If your reference has some additional masses, build them up wherever is needed - just make sure you don't ever drop on any floating visual information. Everything must be grounded in form and construction.
With legs I'm almost always a lot more focused on the gesture and flow of the limbs, rather than constructing tangible, three-dimensional forms. As I explained in the intro video, this is because it's best to avoid tackling two challenges simultaneously. In this case, that would be the challenge of creating solid forms, and the challenge of maintaining flow and gesture and avoiding stiffness. Once you've established shapes that flow nicely, you can then build solid forms around that - and once you've practiced, you'll find that everything you draw will start to carry a degree of form with it, whether you focused on it or not. For example, the way the different sections of the legs connect at the joints maintains a sort of curvature that implies form already, without me explicitly allocating mental capacity towards it. That is really the goal of all of this construction business - to fundamentally change how you see the world, and how you draw on a subconscious level.
Make sure that you do define the joints, though. If you let the leg flow straight through from shoulder to foot with no clear bends or breaks, it's not likely to come out well. Make sure you're aware of every point at which the leg is able to bend, so that each segment of the leg is a separate shape/form. You can be a little more lax with the legs on the opposite side of the form (I often go to some lengths to purposely flatten them out - ignoring the joints in the left front leg is one way I approached that).
Again, detail. Some minor tufts of fur along the silhouette, pushing those left legs back by purposely flattening them out with hatching lines, and so on. That's definitely something to be mindful of, actually - hatching lines will flatten things out. This can be a powerful tool, as I've used it here, but beginners have a tendency to rely far too heavily on it in order to fill spaces in with noise, inadvertently flattening important forms out entirely. Make sure that everything you do is intentional, and is driven by a decision you've made. Don't just do things for the sake of doing them.
This is an advertisement. Most of the links here are part of Amazon's affiliate program (unless otherwise stated), which helps support this website. It's also more than that - it's a hand-picked recommendation of something I've used myself. If you're interested,
here is a full list
.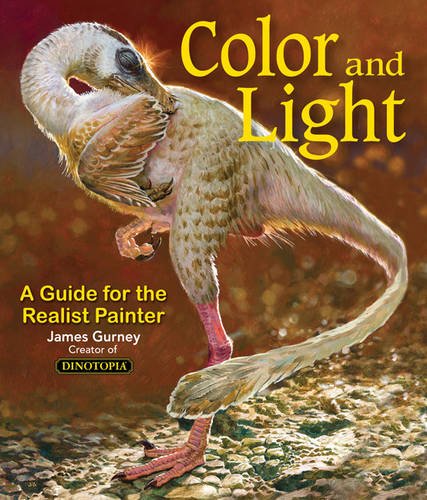 Color and Light by James Gurney
Some of you may remember James Gurney's breathtaking work in the Dinotopia series. This is easily my favourite book on the topic of colour and light, and comes highly recommended by any artist worth their salt. While it speaks from the perspective of a traditional painter, the information in this book is invaluable for work in any medium.
Part One: The Basics

An overview of basic skills - both technical and conceptual - with exercises that you will incorporate into your regular warmups for a long time to come. No matter how skilled or experienced you are, start at Lesson 0.

Challenges and Drills

A series of drills that fit into the lessons at various times. These should not all be completed after lesson 2, but rather will be listed as recommended next steps or prerequisites as you follow the numbered lessons in order.

Part Two: Constructional Drawing

An exploration of how complex objects can be broken down into their fundamental components, then rebuilt from simple forms. We look at this concept of constructional drawing by applying it to many different topics - the focus is not on learning how to draw that specific subject matter, but rather to tackle construction from different perspectives.