Lesson 3: Applying Construction to Plants
Daisy Demo
Here we look at tackling a flower, using the principles of leaf construction and applying them to a different, but similar form that follows the same principles of being flat and following the flow of external forces.
The demo video includes full audio and discussion of the concepts demonstrated in the drawing.
We start out with just a few marks. First we want to establish the path the stem is going to follow, and ultimately how it connects to the head of the flower. We've done this with a flowing line (the arrow coming down and to the right), and a couple of contour ellipses to start establishing the base of the flower's head.
Applying the branch construction technique covered earlier in the lesson, we draw a stem along the path we established in the previous step.
Remember that in order to maintain control over this longer curve, we're building it up in segments that go from one ellipse past the next. As we lift our pen, we aim that stroke towards the ellipse that follows. The goal here is to have each segment we construct overlap the previous one, causing them to blend smoothly into a continuous stroke.
We've also added a bit of a hemisphere or dome form to help build out the core from which all the petals flow.
For each individual petal, we've constructed a separate "flow" line, as covered in the leaf construction exercise. While these are petals, and not leaves, the same principle applies because both are relatively flat and as such are heavily impacted by the flow of wind and air currents that surround them. You'd apply the same tactic to any such object or form.
Make sure you're drawing each flowing line with confidence and with consideration for how those forces are going to be pushing on your leaf. Don't draw shallow, stiff lines - take your time, apply the ghosting method, and don't half-ass it. The flow line is the core that defines the behaviour of each leaf or petal.
Again, following the leaf construction method, enclose the flow line from tip to tip with two edges, creating the overall shape of the petal. Do your best to have the petal end where the flow line does, and push through those lines with confidence again.
Don't be afraid to let the petals fold back on themselves. All we're doing is guiding lines that flow through space.
Now the petals on this flower are pretty simple, but if you ever need to add any edge detail like wavy, fraying or spiky edges, avoid the following:
Zigzagging your lines, each deviation from the previous phase of construction should be drawn as a separate stroke, maintaining the basic mark making rule of each stroke maintaining only a single trajectory.

Ignoring the initial enclosing edge of the shape - your details should always come off that initial edge and then return to it.

Working subtractively - don't cut back into your basic leaf shape, or any form if you can help it. Work additively, always attaching new forms to those you've already established in space. Subtractive construction, while a viable option, usually requires far more spatial awareness of both the form already on the page and the piece you're cutting away, and it's very easy just to think about them as they exist in 2D, thus flattening out your drawing.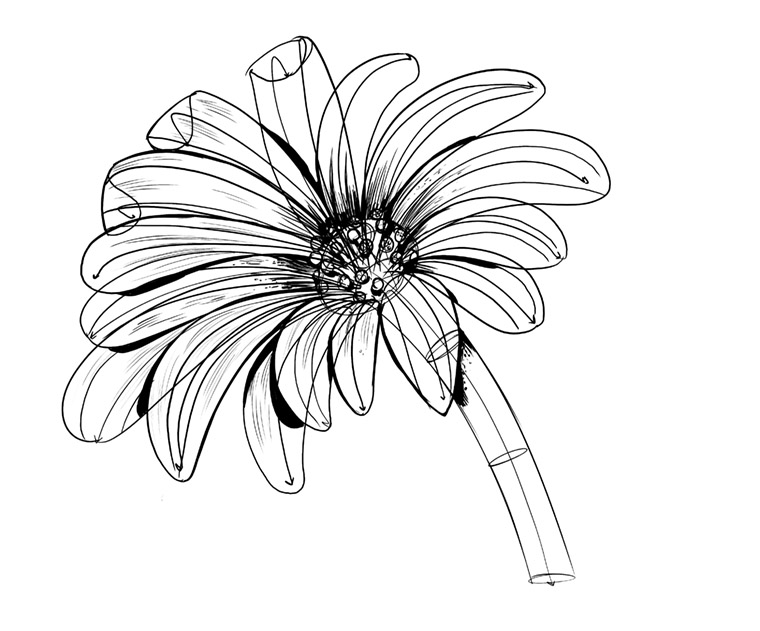 We finish off this drawing with a bit of detail here and there. Notice that while there are many lines running lengthwise along the petals (which you can see in the reference image as well), each one should be drawn with care, to follow the same flow of the petal itself. I'm also allowing these strokes to taper a lot more, by applying much less pressure, though the confidence of the stroke is still more important. If you aren't mindful of each stroke that rests on a surface in your drawing, you risk contradicting the construction you've already laid down.
The recommendation below is an advertisement. Most of the links here are part of Amazon's affiliate program (unless otherwise stated), which helps support this website. It's also more than that - it's a hand-picked recommendation of something I've used myself. If you're interested,
here is a full list
.
Drawabox-Tested Fineliners (Pack of 10, $17.50 USD)
Let's be real here for a second: fineliners can get pricey. It varies from brand to brand, store to store, and country to country, but good fineliners like the Staedtler Pigment Liner (my personal brand favourite) can cost an arm and a leg. I remember finding them being sold individually at a Michael's for $4-$5 each. That's highway robbery right there.
Now, we're not a big company ourselves or anything, but we have been in a position to periodically import large batches of pens that we've sourced ourselves - using the wholesale route to keep costs down, and then to split the savings between getting pens to you for cheaper, and setting some aside to one day produce our own.
These pens are each hand-tested (on a little card we include in the package) to avoid sending out any duds (another problem with pens sold in stores). We also checked out a handful of different options before settling on this supplier - mainly looking for pens that were as close to the Staedtler Pigment Liner. If I'm being honest, I think these might even perform a little better, at least for our use case in this course.
We've also tested their longevity. We've found that if we're reasonably gentle with them, we can get through all of Lesson 1, and halfway through the box challenge. We actually had ScyllaStew test them while recording realtime videos of her working through the lesson work, which you can check out here, along with a variety of reviews of other brands.
Now, I will say this - we're only really in a position to make this an attractive offer for those in the continental United States (where we can offer shipping for free). We do ship internationally, but between the shipping prices and shipping times, it's probably not the best offer you can find - though this may depend. We also straight up can't ship to the UK, thanks to some fairly new restrictions they've put into place relating to their Brexit transition. I know that's a bummer - I'm Canadian myself - but hopefully one day we can expand things more meaningfully to the rest of the world.
Woops! It looks like we updated this page in the last few minutes, and the audio is still generating. Reload the page and try again in a few minutes.
Part One: The Basics

An overview of basic skills - both technical and conceptual - with exercises that you will incorporate into your regular warmups for a long time to come. No matter how skilled or experienced you are, start at Lesson 0.

Challenges and Drills

A series of drills that fit into the lessons at various times. These should not all be completed after lesson 2, but rather will be listed as recommended next steps or prerequisites as you follow the numbered lessons in order.

Part Two: Constructional Drawing

An exploration of how complex objects can be broken down into their fundamental components, then rebuilt from simple forms. We look at this concept of constructional drawing by applying it to many different topics - the focus is not on learning how to draw that specific subject matter, but rather to tackle construction from different perspectives.