Lesson 1: Lines, Ellipses and Boxes
Plotted Perspective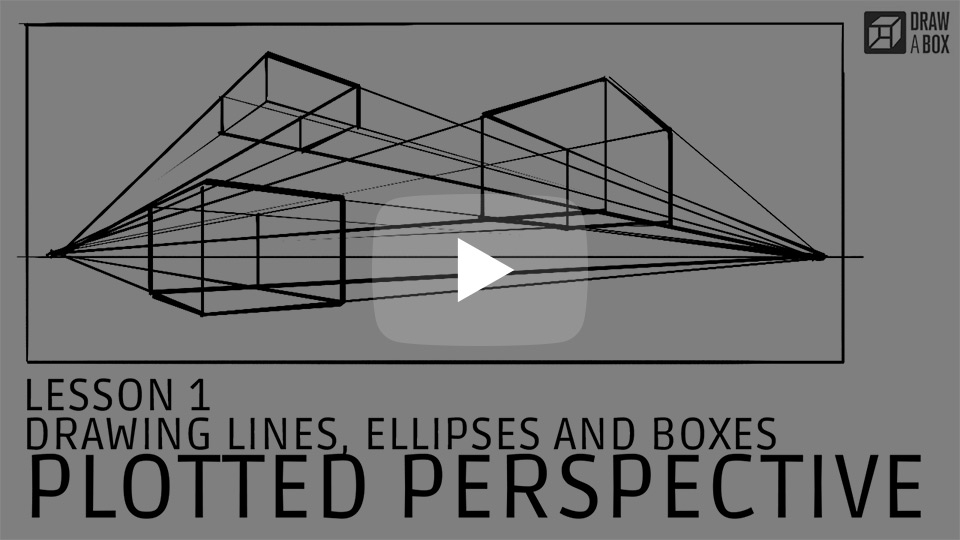 In this exercise, we're just going to get used to the concept of a vanishing point and plotting lines back to them to create boxes. We'll be drawing in 2 point perspective, and we'll be doing everything in this exercise with a ruler.
This process has a lot of steps, but each step is quite simple. Follow the instructions exactly as they're written, and you'll do fine.
Start by drawing a frame on your page - this is going to define the picture plane for our scene. You can think of this frame as being a window into a larger 3D world. Since we'll do this exercise several times on a page, make sure you arrange it so you can fit two or three of these on the page, and make sure they're rectangular, wider than they are tall.
We're going to be using 2 point perspective for all of these boxes. (REMEMBER: the fact that we're using the same vanishing points for all the boxes in this scene is not natural, and is only for the purposes of this exercise), as described in the "simplified" explanation at the end of the boxes lesson page. The viewer will be oriented towards a vertical edge of each of these boxes.
So, we're going to start drawing our first box by drawing a vertical line. Vertical lines in 2 point perspective run perpendicular to the horizon. Since our horizon is perfectly horizontal, then our line can be perfectly vertical, running up and down. The size doesn't matter, but don't go making it too big. This will establish the height of our resulting box.
Now draw a line back from each end of that vertical line back to each vanishing point. You'll be drawing four lines:
One from the top of the line to the left vanishing point

One from the top of the line to the right vanishing point

One from the bottom of the line to the left vanishing point

One from the bottom of the line to the right vanishing point
Now we're going to establish the width and depth of this box. We are NOT constructing a perfect cube, just an arbitrary box.
On the left side, you've got two lines going towards the left vanishing point. In the space between those two, draw a single vertical line. Then do the same on the right side, between those going towards the right vanishing point.
All that's left to do now is to draw the back vertical edge of your box. It can sometimes be a little tricky to see, but the two back corners of your box should already be defined where some of the lines you've drawn to your vanishing points intersect. Find those corners and draw your last vertical line between them.
I'll warn you now: This may not work perfectly. This kind of construction for boxes works assuming that every single step has been followed perfectly, without any human error. Every time you miss a vanishing point by so much as a millimeter, you throw things off by a little bit, and it accumulates.
That's totally okay, and if you look at any of my demonstrations, you'll see places where this back edge doesn't align quite right - but it's very close. There's really nothing to worry about there.
Lastly, you can add a little extra weight to the lines of the actual box by going over them with an additional pass. Do this with your same pen, and as with all of this exercise, use your ruler or straight edge.
You can put the most line weight/thickness on the lines defining the silhouette, a little less on the internal lines that point towards the viewer, and still less on the lines that'll sit on the opposite side of the form.
You can also choose one of the front-facing faces of the box and fill it with some tight, parallel, consistent hatching lines that stretch all the way across the plane from edge to edge. Don't rush this or do it sloppily - it's optional, so if you decide to do it, make sure it's neat and tidy.
The purpose of this exercise
This exercise is really only geared at familiarizing those who are starting out with the concept of a vanishing point, and how we can plot lines that are parallel in 3D space back to their shared vanishing points.
Sometimes students will accidentally draw their boxes so they sit - either entirely or partially - outside of the space between the two vanishing points. This can also happen if the boxes are placed too high above. I explain why this is happening in these notes on distortion and field of view.
The recommendation below is an advertisement. Most of the links here are part of Amazon's affiliate program (unless otherwise stated), which helps support this website. It's also more than that - it's a hand-picked recommendation of something I've used myself. If you're interested,
here is a full list
.
Drawabox-Tested Fineliners (Pack of 10, $17.50 USD)
Let's be real here for a second: fineliners can get pricey. It varies from brand to brand, store to store, and country to country, but good fineliners like the Staedtler Pigment Liner (my personal brand favourite) can cost an arm and a leg. I remember finding them being sold individually at a Michael's for $4-$5 each. That's highway robbery right there.
Now, we're not a big company ourselves or anything, but we have been in a position to periodically import large batches of pens that we've sourced ourselves - using the wholesale route to keep costs down, and then to split the savings between getting pens to you for cheaper, and setting some aside to one day produce our own.
These pens are each hand-tested (on a little card we include in the package) to avoid sending out any duds (another problem with pens sold in stores). We also checked out a handful of different options before settling on this supplier - mainly looking for pens that were as close to the Staedtler Pigment Liner. If I'm being honest, I think these might even perform a little better, at least for our use case in this course.
We've also tested their longevity. We've found that if we're reasonably gentle with them, we can get through all of Lesson 1, and halfway through the box challenge. We actually had ScyllaStew test them while recording realtime videos of her working through the lesson work, which you can check out here, along with a variety of reviews of other brands.
Now, I will say this - we're only really in a position to make this an attractive offer for those in the continental United States (where we can offer shipping for free). We do ship internationally, but between the shipping prices and shipping times, it's probably not the best offer you can find - though this may depend. We also straight up can't ship to the UK, thanks to some fairly new restrictions they've put into place relating to their Brexit transition. I know that's a bummer - I'm Canadian myself - but hopefully one day we can expand things more meaningfully to the rest of the world.
Woops! It looks like we updated this page in the last few minutes, and the audio is still generating. Reload the page and try again in a few minutes.
Part One: The Basics

An overview of basic skills - both technical and conceptual - with exercises that you will incorporate into your regular warmups for a long time to come. No matter how skilled or experienced you are, start at Lesson 0.

Challenges and Drills

A series of drills that fit into the lessons at various times. These should not all be completed after lesson 2, but rather will be listed as recommended next steps or prerequisites as you follow the numbered lessons in order.

Part Two: Constructional Drawing

An exploration of how complex objects can be broken down into their fundamental components, then rebuilt from simple forms. We look at this concept of constructional drawing by applying it to many different topics - the focus is not on learning how to draw that specific subject matter, but rather to tackle construction from different perspectives.