Lesson 1: Lines, Ellipses and Boxes
Organic Perspective
This is the last exercise of lesson 1, and it's a doozy. Like the rotated boxes, what I want most is for you to complete the recommended number of pages to the best of your current ability. No more, no less. We're not looking for you to impress anyone, but rather to face the challenges head on so they can start making you think and consider a new kind of spatial problem.
While this exercise is very much about attempting to construct freely rotated boxes in 3D space, it also introduces you to a couple of compositional concepts. To start with, we're going to draw a frame as we did for many of our previous exercises.
We're also going to draw a nice, swoopy line as you can see here. Imagine this line moves from closer up to the viewer and pushes back into the scene, getting further away. You can also draw with more pressure initially to make it a heavier stroke close up, and ease up as you move back. Alternatively, you may also want to draw it in the opposite direction - from far away, starting light, to close up, finishing up with more pressure and weight.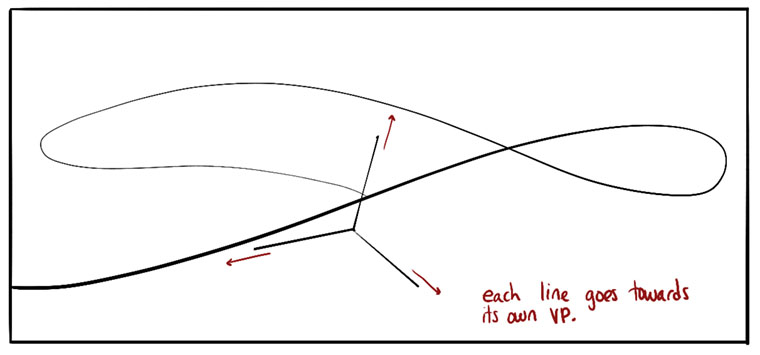 Next, we're going to start with one box. For that box, find the corner that is going to be closest to the viewer, and draw out each of the lines coming off that corner. Often this will result in a sort of "Y" shape with angles greater than 90° between each line (resulting in something we call the Y method of constructing a box), but that's not really what's important.
What matters here is that you're drawing one line belonging to each of the three sets of parallel lines that make up this box. Each line points to its own separate vanishing point.
Now with one line of each set drawn, we're going to add another to each line. As you're drawing this, think about how you want each set to converge and try and think about (in rough terms) where the vanishing point is going to be for each set.
This step effectively sets in stone where the vanishing point is going to be. It'll be where the two lines present of each set converge. Now we're not going to necessarily be super accurate to this as we move forwards, but it's what we're going to strive for. You'll notice that in my example here, my estimations will be far from perfect.
Finally we finish up the last three lines for this box. The result is... workable. The convergences are far from consistent, but the act of constructing this box has forced us to think about how those lines exist in sets, where each set shares one vanishing point.
Keep in mind that the specific procedure we've used here isn't set in stone - it's about the concepts it highlights. At its core, a box is made up of three sets of parallel lines. How you come about putting those together is up to you.
Now, repeat the process many, many times over. Construct your boxes along the swoopy line you made initially, specifically making the boxes that are closer larger and those far away smaller in order to convey the depth of the scene.
One other thing I want you to avoid is applying foreshortening that is too dramatic to any of these boxes, especially those further behind. I explain the reason for that in these notes about foreshortening and conveying scale.
The purpose of this exercise
The purpose of this exercise is to throw you into the deep end of the pool without having yet taught you to swim. By diving into this exercise, you're being forced to contend with freely rotating boxes in 3D space without any real grounding of how to deal with them. There's no concrete vanishing points that you're marking out on the page, no neighbouring forms to base things off. It's more guesswork than you'll have dealt with by this point. It's actually been the pattern we've followed - gradually stripping away our rules, forcing you to rely more and more on educated guesses and intuition.
So expect to make a lot of mistakes. The point isn't to be able to nail this, but to get your gears turning as you start thinking about the fact that this is a kind of spatial problem you're facing, likely for the first time. We're exposing you to it because you likely wouldn't have really considered this sort of thing otherwise.
So like the last exercise, it doesn't really matter if your work comes out looking like this. What's important is that you strive for it, so you're forced to start thinking about how these forms can be rotated freely in 3D space. You will struggle with it, and you're meant to.
When you're done, that'll mark the completion of this lesson. Don't worry if you had any trouble at all - it's expected, and you'll be diving into the 250 box challenge after this (once you've had your Lesson 1 homework critiqued and marked as complete).
The recommendation below is an advertisement. Most of the links here are part of Amazon's affiliate program (unless otherwise stated), which helps support this website. It's also more than that - it's a hand-picked recommendation of something I've used myself. If you're interested,
here is a full list
.
Staedtler Pigment Liners
These are what I use when doing these exercises. They usually run somewhere in the middle of the price/quality range, and are often sold in sets of different line weights - remember that for the Drawabox lessons, we only really use the 0.5s, so try and find sets that sell only one size.
Alternatively, if at all possible, going to an art supply store and buying the pens in person is often better because they'll generally sell them individually and allow you to test them out before you buy (to weed out any duds).
Woops! It looks like we updated this page in the last few minutes, and the audio is still generating. Reload the page and try again in a few minutes.
Part One: The Basics

An overview of basic skills - both technical and conceptual - with exercises that you will incorporate into your regular warmups for a long time to come. No matter how skilled or experienced you are, start at Lesson 0.

Challenges and Drills

A series of drills that fit into the lessons at various times. These should not all be completed after lesson 2, but rather will be listed as recommended next steps or prerequisites as you follow the numbered lessons in order.

Part Two: Constructional Drawing

An exploration of how complex objects can be broken down into their fundamental components, then rebuilt from simple forms. We look at this concept of constructional drawing by applying it to many different topics - the focus is not on learning how to draw that specific subject matter, but rather to tackle construction from different perspectives.