Lesson 1: Lines, Ellipses and Boxes
Boxes: Simplified Guidelines
In the last page, I explained that 1, 2, and 3 point perspective are simplifications that can when used without proper understanding, have a negative impact on how a student understands the manner in which perspective can be used as a tool. That does not however mean that it is without its uses. Below, I will explain situations where one can simplify the approach to constructing a box, based on how it's oriented in space.
Just keep in mind - these are loose guidelines, and depend very much on the circumstances of what you're drawing. Additionally, they only really apply to single boxes. That may not seem particularly useful, but you'll be surprised just how often you end up drawing boxes - not as the final goal, but as a tool to help define a chunk of space in which to construct a given object.
Each of the cases below involve drawing a singular box. The simplified guidelines will help you decide whether this box should be drawn in:
1 point perspective (meaning, if the box's orientation is close enough to perpendicular to the viewer on two axes, allowing for 2 vanishing points at infinity)

2 point perspective (meaning, if the box's orientation is close enough to perpendicular to the viewer on one axis, allowing for 1 vanishing point at infinity)

or 3 point perspective (meaning, the box's orientation would not allow for any of the vanishing points to be at infinity)
In doing so, each one will have you consider the general silhouette of the box you wish to draw - that is, the 2D shape it will result in when drawn on the page.
These guidelines are suggestions for you to use outside of this course. Do not employ them for any of the exercises you're doing here - especially not ones like the box challenge and cylinder challenge, which have us drawing forms that are randomly rotated in space.
1 point perspective simplified
Consider the box you wish to draw, and the general silhouette its orientation will result in when drawn on the page. If the center of this silhouette is roughly over one of the box's faces (and is not too close to an edge or corner), then you can likely get away with drawing this box in 1 point perspective. This means that one vanishing point will be inside of or very close to the box's silhouette, but the other two can be placed at infinity, allowing you to draw those edges as parallel on the page.
The closer the silhouette's center drifts to an edge or corner, the more "off" this will end up appearing, so do not try to force it.
2 point perspective simplified
If the general silhouette of your box once drawn is centered close to an edge, you can get away with drawing it in 2 point perspective - meaning, with two sets of parallel edges drawn as lines that converge towards concrete vanishing points, and one set of parallel edges whose vanishing point is at infinity, allowing them to be drawn as parallel on the page.
The closer the silhouette's center drifts to a corner, the more it'll start to look distorted.
3 point perspective simplified
And lastly, if you find that the box's silhouette is centered close to one of the box's corners, then there's not much that can be done. Attempting to force any of the vanishing points to infinity will result in a ton of distortion, so that should absolutely be avoided in these situations.
The recommendation below is an advertisement. Most of the links here are part of Amazon's affiliate program (unless otherwise stated), which helps support this website. It's also more than that - it's a hand-picked recommendation of something I've used myself. If you're interested,
here is a full list
.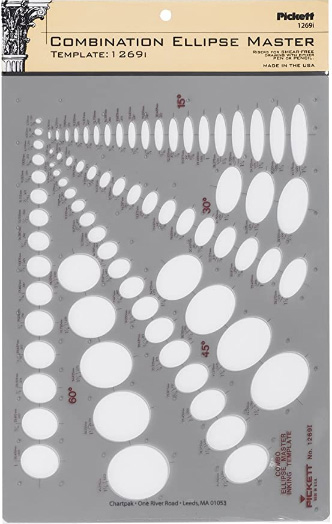 Ellipse Master Template
This recommendation is really just for those of you who've reached lesson 6 and onwards.
I haven't found the actual brand you buy to matter much, so you may want to shop around. This one is a "master" template, which will give you a broad range of ellipse degrees and sizes (this one ranges between 0.25 inches and 1.5 inches), and is a good place to start. You may end up finding that this range limits the kinds of ellipses you draw, forcing you to work within those bounds, but it may still be worth it as full sets of ellipse guides can run you quite a bit more, simply due to the sizes and degrees that need to be covered.
No matter which brand of ellipse guide you decide to pick up, make sure they have little markings for the minor axes.
Woops! It looks like we updated this page in the last few minutes, and the audio is still generating. Reload the page and try again in a few minutes.
Part One: The Basics

An overview of basic skills - both technical and conceptual - with exercises that you will incorporate into your regular warmups for a long time to come. No matter how skilled or experienced you are, start at Lesson 0.

Challenges and Drills

A series of drills that fit into the lessons at various times. These should not all be completed after lesson 2, but rather will be listed as recommended next steps or prerequisites as you follow the numbered lessons in order.

Part Two: Constructional Drawing

An exploration of how complex objects can be broken down into their fundamental components, then rebuilt from simple forms. We look at this concept of constructional drawing by applying it to many different topics - the focus is not on learning how to draw that specific subject matter, but rather to tackle construction from different perspectives.