Lesson 1: Lines, Ellipses and Boxes
Lines: Using Your Arm
The pivots are as follows:
Moving from the wrist affords us a very small arc of motion. This is very good for creating stiff, accurate linework, but falls apart when you have to create strokes that flow smoothly and consistently. It's often the reason you see students chicken scratching early on, because they're trying to draw everything from their wrists. It's not surprising, since we've spent most of our lives writing, which we do from the wrist.
The shoulder gives us a much larger arc of motion, and makes it easier to draw consistent, flowing lines. The downside is that beginners are generally not even remotely comfortable with that kind of a motion. It's unfamiliar, and usually relies on muscles that are under developed, so it'll feel awkward and quickly grows tired or sore at first.
What do you mean I can't draw from the wrist?
I am not saying that we never draw from the wrist. As mentioned above, there are things the wrist excels at - specifically drawing stiff but precise marks, which may come up frequently in very tight areas of detail or texture. As explained in the next section however, we are primarily going to be drawing from the shoulder, especially through these first few lessons, because those exercises demand lines that flow smoothly and consistently. Furthermore, the majority of people are already far more capable of drawing with their wrists than they are with their shoulders. Always remember that the exercises and lessons we're doing here are intended to build out your skill set.
To put it simply, these lessons aim to teach you what you need to know in the long run - not what will necessarily be easiest right now. Generally speaking, we try to avoid the path of least resistance, and focus instead on what is of greatest overall value.
The path of least resistance
The very fact that drawing from the shoulder is considerably more difficult is exactly why I want you to use your shoulder pivot as much as possible.
There are plenty of cases where the elbow will work fine, and it will absolutely be much easier for you - but the biggest trap in drawing is getting in the habit of taking the path of least resistance. It's a tendency many beginners have when faced with two options, they will lean one way or the other because it is the easier option. Not because it is the best suited to solve the problem they're facing. It's a mindset that must be broken, and it's something we'll come across time and time again.
With mark making being so critical, I want you to apply the shoulder pivot wherever you can, so you can grow accustomed to it and comfortable with it. It will be tiresome, and you'll be forced to take more breaks. It will make you sore, as you develop muscles that until now have gone ignored. But it will also make it so when you are faced with the decision of which pivot to use for a given mark, you will make that decision entirely on what the best option is, rather than what suits you best.
What is drawing from the shoulder?
Drawing from the shoulder means driving the motion from the muscles that control that joint. Being a ball joint (rather than a hinge joint like the elbow), the shoulder has a pretty considerable range of motion. This means that even though the surface you're drawing on is flat (and the drawing motion from a pivot is an arc), you should be able to move your arm from that pivot and still have your pen touch the page at all times with minimal adjustment from your elbow.
Now, note that I'm saying minimal. I really don't like mentioning this because it's very easy for students to overdo it, but your elbow may move slightly to compensate and maintain the pen's contact with the page. This DOES NOT mean you should be drawing in a way that involves a lot of motion from multiple pivots, as this will make the motion muddy and indistinct, and will likely cause you to depend far too much on your elbow, rather than properly developing familiarity with your shoulder.
All I'm saying is, don't worry or fuss over it if there is a little bit of movement at the elbow, just be sure that the drawing motion as a whole is being driven by your shoulder muscles.
One exercise I frequently recommend to get familiar with the different pivots is to pivot from your wrist a little, to get used to what that feels like, then lock it. Locking your joint means that you're going to make a conscious effort not to engage the muscles that allow you to pivot from that joint. Next, do the same with your elbow - pivot from that joint, then lock it as well. Finally, do it for your shoulder. This exercise helps, especially whenever you catch yourself having fallen back to drawing from your elbow or wrist (which will happen often), because it reminds you of what each joint's motions feel like.
One thing that can help is to draw on an angled surface, similar to a drafting desk. You don't need to go out and spend hundreds of dollars on a desk though, you can probably achieve a similar result with some books propping up a drawing board. None of this is necessary however, but do be sure to sit with good posture and draw at a clean, uncluttered desk or table.
More than anything, all of this is meant to familiarize yourself with how your arm works, so eventually you will have a much greater degree of control over every aspect of it.
This page has student-made readings/recordings
They can be helpful for those of you who cannot follow along with the text, or who need live examples for the exercises to follow along with.
Just keep in mind that as the lessons themselves are continually being updated and adjusted, the audio recordings may not be completely up to date.
This is an advertisement. Most of the links here are part of Amazon's affiliate program (unless otherwise stated), which helps support this website. It's also more than that - it's a hand-picked recommendation of something I've used myself. If you're interested,
here is a full list
.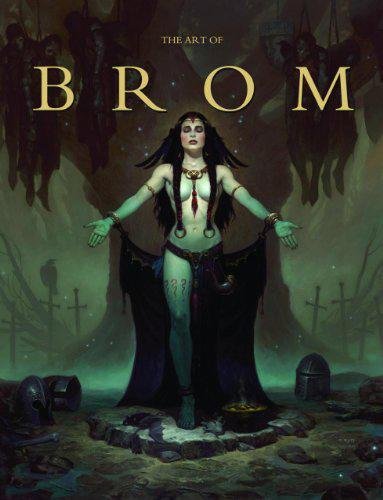 The Art of Brom
Here we're getting into the subjective - Gerald Brom is one of my favourite artists (and a pretty fantastic novelist!). That said, if I recommended art books just for the beautiful images contained therein, my list of recommendations would be miles long.
The reason this book is close to my heart is because of its introduction, where Brom goes explains in detail just how he went from being an army brat to one of the most highly respected dark fantasy artists in the world today. I believe that one's work is flavoured by their life's experiences, and discovering the roots from which other artists hail can help give one perspective on their own beginnings, and perhaps their eventual destination as well.
Part One: The Basics

An overview of basic skills - both technical and conceptual - with exercises that you will incorporate into your regular warmups for a long time to come. No matter how skilled or experienced you are, start at Lesson 0.

Challenges and Drills

A series of drills that fit into the lessons at various times. These should not all be completed after lesson 2, but rather will be listed as recommended next steps or prerequisites as you follow the numbered lessons in order.

Part Two: Constructional Drawing

An exploration of how complex objects can be broken down into their fundamental components, then rebuilt from simple forms. We look at this concept of constructional drawing by applying it to many different topics - the focus is not on learning how to draw that specific subject matter, but rather to tackle construction from different perspectives.