Lesson 1: Lines, Ellipses and Boxes
Ghosted Planes
This exercise is an extension of the previous one.
You'll find that we often build on previous concepts in this manner, first presenting an idea, getting some experience with it and then twisting it to make it just a little more challenging and giving you a little more to think about.
You'll quickly find that this exercise is basically just a more purposefully organized version of the ghosted lines exercise. As such, you can feel free to do this exercise instead of the ghosted lines when picking exercises to do for your warmups at the beginning of a given sitting.
When we get into the next section (where we talk about ellipses), you'll learn about the Ellipses in Planes exercise, which adds yet another level to the exercise and making it an even better combo for warmups.
Just like with the ghosting exercise, we start out by planning out our marks. Here we're doing so for more than one line at a time - we want to produce some sort of quadrilateral. Don't worry about making all the edges the same length or anything like that, just place the four points on the page wherever it feels right.
For each pair of points, rotate your page to find a comfortable angle of approach, ghost through the motion as much as is needed to feel comfortable, and then execute the stroke with a confident, persistent pace. No hesitation, no thinking about the plane as a whole, focus only on the mark you're making at that moment.
Some students get too caught up in the big picture of what they're doing, and they lose track of the individual actions. All that matters is what you're doing now, as you make this single mark.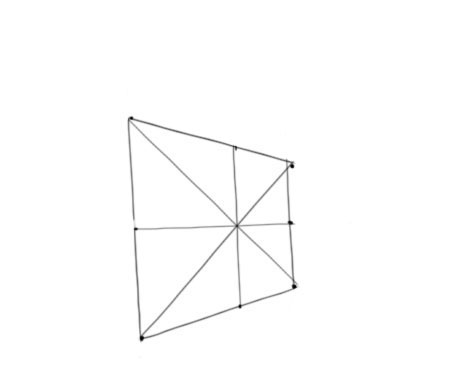 Finally, lets bisect the plane in both dimensions, drawing a cross through the center of the X we created in the previous step.
Remember to use the ghosting method for every mark you draw - in this case, that means starting with adding your start and end point. Ghosting is going to be a technique you're going to use a lot throughout this course.
Now, for those of you who've tackled perspective before, you may start fussing over things like, "how do I know my cross is centered along each edge of the plane" and other concerns. For now, this exercise has nothing to do with perspective. It's just a bunch of lines on a flat page, nothing else to worry about.
For any 'common mistakes' you can look at those listed on the ghosted lines page.
Keep your pages for this exercise!
We're going to use these pages when we get into the Ellipses in Planes exercise in the next section. Don't throw them away! Otherwise you'll have to draw a whole new set.
The purpose of this exercise
This exercise is about applying the ghosting method to something (slightly) more complex than a single line. There will be a similar jump when you get to the boxes section, and have to worry about applying this technique to three dimensional forms. I frequently see students who are used to putting a certain amount of time in per "unit of work". In the lines section, one unit of work is one line. In the ellipses section, one unit of work is one ellipse. Finally, in the boxes section - I'm sure you see where I'm going with this - one unit of work is to them, one box.
But that's not correct - a box consists of several lines, so a box should be equal to as many units of work. This planes exercise has you tackle something that consists of many lines, while also putting the time and focus in for each individual stroke in order to ensure that it is done as well as you can manage.
It also takes certain aspects of the ghosting method and spreads them out - for example in my demonstration above, we lay out all four points for the plane before even drawing our first line, fleshing out our requirements early. Similar approaches can be used when drawing things like boxes, or other more complex forms.
This bit here is not for those of you going through the exercise for the first time as part of your lesson 1 homework. As I mention in Lesson 0, once you're done with a lesson, you'll continue practicing these exercises as part of a regular warmup routine.
This exercise is especially good for warmups, and I'd generally recommend doing it over the simpler ghosted lines exercise for obvious reasons - it's the same thing, but with more purpose to it. On top of that however, it's a particularly versatile exercise that can be modified to start incorporating perspective concepts as well.
While at its most basic form, I don't want you worrying at all about perspective, as you move forwards through the lessons, you can start to envision these planes as being three dimensional rectilinear surfaces - that is, each plane represents a rectangle or a square floating in space. The third and fourth steps, where we construct the diagonals and the cross can be treated as being a subdivision of the plane (the X to find the center of the plane in three dimensions and the cross to bisect it). The cross will of course require some estimation to find the center of each edge in space, but it's a great thing to practice as you move through the rest of the Drawabox lessons.
The recommendation below is an advertisement. Most of the links here are part of Amazon's affiliate program (unless otherwise stated), which helps support this website. It's also more than that - it's a hand-picked recommendation of something I've used myself. If you're interested,
here is a full list
.
Staedtler Pigment Liners
These are what I use when doing these exercises. They usually run somewhere in the middle of the price/quality range, and are often sold in sets of different line weights - remember that for the Drawabox lessons, we only really use the 0.5s, so try and find sets that sell only one size.
Alternatively, if at all possible, going to an art supply store and buying the pens in person is often better because they'll generally sell them individually and allow you to test them out before you buy (to weed out any duds).
Woops! It looks like we updated this page in the last few minutes, and the audio is still generating. Reload the page and try again in a few minutes.
Part One: The Basics

An overview of basic skills - both technical and conceptual - with exercises that you will incorporate into your regular warmups for a long time to come. No matter how skilled or experienced you are, start at Lesson 0.

Challenges and Drills

A series of drills that fit into the lessons at various times. These should not all be completed after lesson 2, but rather will be listed as recommended next steps or prerequisites as you follow the numbered lessons in order.

Part Two: Constructional Drawing

An exploration of how complex objects can be broken down into their fundamental components, then rebuilt from simple forms. We look at this concept of constructional drawing by applying it to many different topics - the focus is not on learning how to draw that specific subject matter, but rather to tackle construction from different perspectives.