Lesson 1: Lines, Ellipses and Boxes
Some Quick Reminders
If you haven't yet read through Lesson 0, you absolutely should before moving forward. It covers important information on how these lessons are meant to be used, and highlights common pitfalls many students encounter that can hinder their progress as they move forwards.
As you may have noticed, Drawabox is presented in both videos and text. This is because the content we teach here is dense, and it helps students to absorb the material when it is delivered in multiple formats.
While we are working to make the videos more concise and to touch on all the same major points in both text and video format, as of February 2021 we are only just beginning revising the video content. Most of the videos are older - some by a year, some by a few - and many of them are not as up-to-date as the text content. They are still useful, but should not be treated as a replacement for the text.
Even when the videos are fully updated however, there is immense value in absorbing the material in different formats. Our brains easily become complacent, so going through it in multiple formats is more effective, even than just rewatching the same video several times.
Expect to both watch the videos and read the text, in order to get the most out of this resource.
But Comfy! I have trouble with reading!
Between June and December 2021, we worked with Audiblogs, an awesome startup that allows you to turn websites and articles into audiobooks, using neural network driven text-to-speech. They provided audio versions of our first lesson as a free preview, then charged a small monthly fee to access the others, to help with their bandwidth costs.
Since then, we've amicably ended that partnership (you should still check them out) - but worry not! We've implemented the feature ourselves and are providing it completely free. We're going to keep an eye on how much it costs to provide, but we would like to keep it free into the future, if it continues to be feasible to do so.
So! Feel free to click the "Listen with Drawabox" button at the top of each article to have the content read to you. You can also hit the little play button on the right of each bookmarkable section, or use the bookmarks right on the player to jump to a specific section.
So- if you've read through all of Lesson 0, are ready to follow the instructions of the tasks laid before you, and to both watch the videos and read through the text, let's get started. You can click the link at the bottom right of the page to move onto the next section.
The recommendation below is an advertisement. Most of the links here are part of Amazon's affiliate program (unless otherwise stated), which helps support this website. It's also more than that - it's a hand-picked recommendation of something I've used myself. If you're interested,
here is a full list
.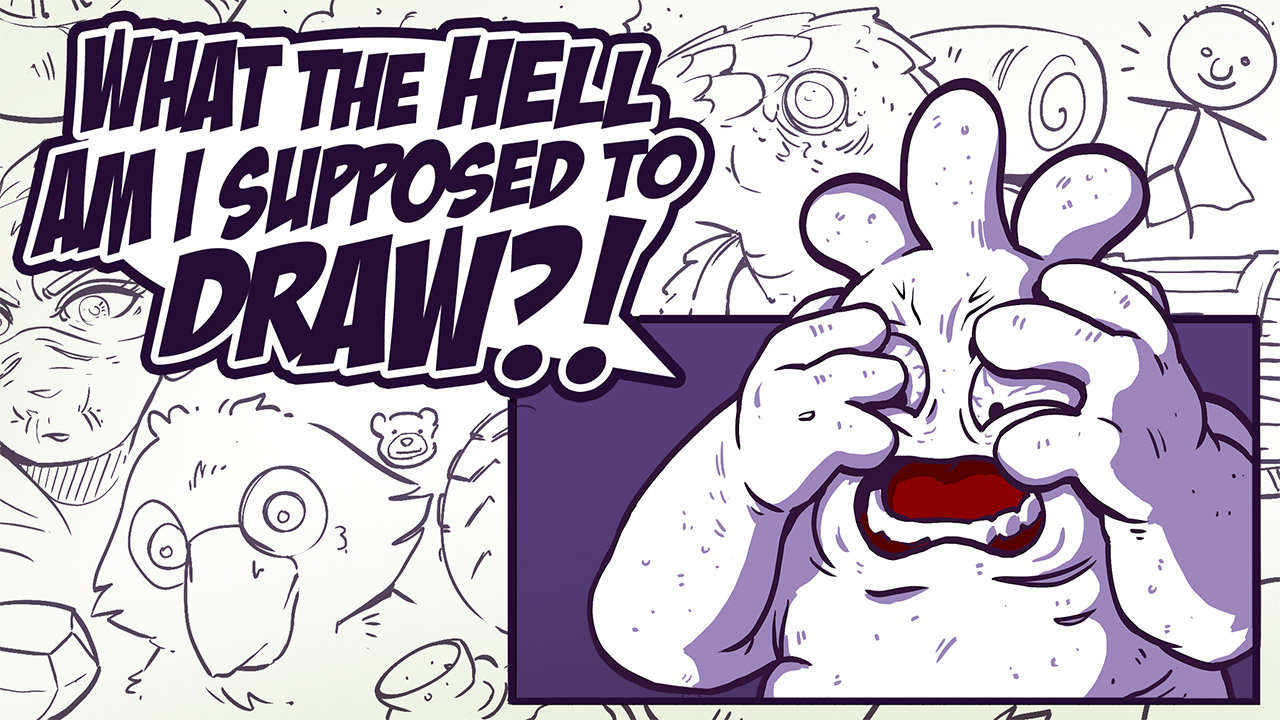 The Science of Deciding What You Should Draw
Right from when students hit the 50% rule early on in Lesson 0, they ask the same question - "What am I supposed to draw?"
It's not magic. We're made to think that when someone just whips off interesting things to draw, that they're gifted in a way that we are not. The problem isn't that we don't have ideas - it's that the ideas we have are so vague, they feel like nothing at all. In this course, we're going to look at how we can explore, pursue, and develop those fuzzy notions into something more concrete.
Woops! It looks like we updated this page in the last few minutes, and the audio is still generating. Reload the page and try again in a few minutes.
Part One: The Basics

An overview of basic skills - both technical and conceptual - with exercises that you will incorporate into your regular warmups for a long time to come. No matter how skilled or experienced you are, start at Lesson 0.

Challenges and Drills

A series of drills that fit into the lessons at various times. These should not all be completed after lesson 2, but rather will be listed as recommended next steps or prerequisites as you follow the numbered lessons in order.

Part Two: Constructional Drawing

An exploration of how complex objects can be broken down into their fundamental components, then rebuilt from simple forms. We look at this concept of constructional drawing by applying it to many different topics - the focus is not on learning how to draw that specific subject matter, but rather to tackle construction from different perspectives.