Lesson 0: Getting Started
Changing your Mindset
The hardest thing you'll ever do
All of you are here because of one central desire: you want to get better at art. As such, your focus falls squarely on one thing: your drawings. But your drawings are just one part of what it means to draw - they're just the end result, and while right now to you that's the most important, I propose an alternative view:
The end result is getting in your way.
Our entirely natural obsession with drawing things that look good - to impress ourselves, to impress those around us, and to impress people on the other side of the planet whom you've never met - is above all else what holds us back. It stresses us out, and puts us into a state of creative paralysis. It pushes us to focus on nothing but practice, on training, on exercises, and leaves us drained. And worst of all, it makes us fear doing precisely the things for which we're learning these skills.
Oh, if I had a nickel for every student who declared "I can't draw that." It's such a common statement, but what it really means is "I can't draw that well right now, so what reason do I have to try?" Or more poignantly, "To try would be a waste of my time." And for this, I blame traditional academics. School makes us terrified of failure, and declares "success" as the only useful result. But I think differently.
Failure is a beginner's job
While as children we're taught to run from failure - and even to actively avoid doing something if it has a low chance of success - failure is not only okay, or good - but a critical and integral part of the learning process. Where success tells us where we are in our development, and what we've achieved thus far (something that should be acknowledged and appreciated), it is failure that points ahead and tells us what paths lay ahead of us to grow beyond what we are today.
Failure shows us where we have yet to go, and what we have yet to become.
The mistake we all make is that we take our failures personally. We come to interpret a bad drawing as reflecting upon ourselves - if we draw badly, we ourselves must be bad. If we are unable to succeed, then this must mean that we ourselves are less valuable. That we should be ashamed. But ashamed of what? Ashamed of being a beginner? Nonsense.
Everyone starts somewhere, and that somewhere is as a beginner. Some people are only a beginner for a short period, whereas many will continue to be beginners for years. Or perhaps you're like me - eternally a beginner in some regard, always with something new to learn.
How we approach learning, our frame of mind as we do so, the kinds of exercises we do, and the people we choose to follow - these are all factors that influence how we learn and progress, and at what rate we improve. But throw that all aside, because what's important is one simple fact: Being a beginner is not a bad thing.
If anything, it should be a position of freedom. After all, what on earth does anyone have to expect from a beginner? You're growing on your own time, at your own pace, and no one - especially not yourself - has any right to apply any expectations to that. Unfortunately, we are most often our own bullies in this regard, the ones leveraging those undue and unfair expectations, crushing ourselves before we've even truly begun.
Some of you love to draw on your own. You'll sit with a stack of paper, or with a tablet and computer, or whatever else - and happily draw away. But the vast majority of you don't. You want to draw, you love the idea of drawing, and perhaps you can imagine yourself one day drawing like the masters you admire - but right now, if invited to do so, you give a simple answer: I'm not ready.
I want you to ask yourself a simple question: Not ready for what? Not ready to...
Draw things well? What's wrong with drawing something badly? What's wrong with playing around, experimenting for the hell of it? Does every drawing you produce have to be amazing? If that's the case, I've got bad news for you - because every artist you admire sits atop a mountain of awful, embarrassing garbage that they've produced over the years. It's unlikely you'll be the unique, special prodigy, to avoid that.
A lot of people will tell me, "oh but you don't understand - I'm a complete beginner, I don't know anything!" I can assure you, neither did I when I attempted to draw these cars as a child.
Do not expect better for yourself than I did then.
And finally, that brings us to why this is relevant to you. Everyone following this course is expected to abide by what we call the 50% rule, without exception.
The 50% rule is simple. All of the time you spend on drawing is to be divided into two equal portions.
One half will include anything and everything you do with the purpose of improving your skills. Coursework, exercises, studies, tutorials, etc.

The other half is reserved only for drawing done for the sake of drawing. In other words, play. Experimentation, just throwing yourself at the page and giving yourself full freedom to just try, even though the result will likely turn out badly.
Another way of thinking about it is that every minute you spend on learning, should be matched with another minute spent on play. Every day does not have to be split so evenly (not everyone has hours to throw at drawing each day). You could alternatively spend one session learning, and the next session playing.
This rule is something most students hate, and struggle with immensely. Many will view the difficulty of it as being reason to ignore or skip it, so understand that you are not alone. Of course, many still have (and inevitably will) pushed forward without following this rule - and of those who ultimately did finish the course, they generally agree that ignoring the 50% rule was a critical mistake.
There are a number of reasons why the 50% rule is extremely beneficial, despite how clearly frustrating and difficult it can be to follow:
It'll help develop skills that do need to be developed at some point, and doing it now will help you avoid some stinging disappointment later on.
To put it simply, it becomes a lot harder to learn how to play when you've developed the technical skill, and the expectations that come along with it. As a beginner, there are still some barriers of expectation, but it's far easier to remind yourself of the simple fact that you are a beginner, and that any such expectations are utterly ridiculous. After you've spent six months, or a year, or two, "learning the fundamentals" though, if you find yourself still struggling to apply those skills to the things that are truly important to you, you might just throw everything in the garbage and quit.
The "Downtime" spent on things other than active learning, preferably in a more relaxing fashion, will help you process the things you've learned, and absorb them more fully.
It helps us learn, and process the information we absorb through the lessons. In learning, there's time spent actually studying, doing exercises, reading instructional books, and so on. We'll call this the "positive" space of learning, the real meat of it. And then, on the flipside of the same coin, there is the "negative space". That is, the time in between, which we spend on pretty much everything that isn't active learning. Eating, sleeping, watching TV, reading fiction, hanging out with friends, or playing video games.
Traditional academics, and really anything that puts a lot of focus on achievement and ambition, focuses heavily on the "positive" space of learning, and in doing so, it makes us ignore and even reject the clear benefits of the other side. Taking breaks, pushing our brain to focus on other things, playing, and sleeping are all incredibly important for the simple reason that our brain needs time to process and assess what we've learned. It cannot do this while it is continually taking in yet more new information.
Those who cram for exams, rather than pacing themselves and spreading things out, encounter this frequently. In order to learn optimally, we must seek balance. Balance between work and play.
Cleanly separating work and play allows us to do each whole-heartedly.
It's common for students to get bored and distracted when forced to study and work for too long, and this can result in aimless doodling on the side. While doodling isn't inherently bad, as a lot of people doodle while listening to lectures and find it helps them better absorb the material, it does however impact how carefully a student might complete a drawing exercise, as it pulls away some of the cognitive resources we need to be using in order to complete the work to the best of our current capacity.
By creating clearly delineated times for work and for play, we are able to burn off that nervous energy, so we can focus our cognitive resources singularly on the task at hand when it's time to work. This also means that when we play, having done our work at our best, we can more easily allow ourselves to play without shame.
Note: I cannot speak to how directly this applies to those of you who face learning challenges or conditions like ADHD, and I must leave it to you to try to apply this principle as well as you reasonably can. I can however say that we have students with ADHD (one of whom is currently a teaching assistant, as well as a freelance illustrator) who have worked through and benefitted from this course. You can read more about her experiences in this response she's given to another student in our community (scroll down to the post by sluggydragon).
Depression and learning art
As the 50% rule relates heavily to mental health, I would be remiss not to take a moment to talk about depression. A lot of people out there will really struggle with the idea of doing something only to fail. As I've mentioned already, many of us have been taught that our value as an individual is inextricably tied to our ability to succeed, to the point where forcing yourself to fail (as this course will have you do quite a bit) can actively trigger depressive episodes. It gets that much worse when you consider how many people actively try and use art as therapy — not as part of a larger regimen under the guidance of a professional, but as their singular self-prescribed solution, and unfortunately it can make things worse.
For those of you in that situation, I strongly urge you to seek whatever professional support you can. Therapy with a trained professional isn't about changing who you are, or attempting to fix you. Rather, at its core it's about giving you the tools you need to better manage and understand your emotions, so that when you're faced with a bad drawing, you can understand not just on a logical level, but deep within you that this does not in any way suggest that you yourself are bad. So, don't be afraid to step away from this course, and to seek out that help. We'll still be here when you're better equipped.
Many of you will insist that you don't know what to draw.
While in the video above I do explain such a feeling to be based primarily on our tendency to filter our ideas, disregarding anything that we don't deem to be something we could execute successfully right now, understanding this on a logical level doesn't mean you can just flip a switch and suddenly let the ideas flow. It'll still be hard.
For those of you who are struggling to come up with anything to draw, we actually have a tool you'll find on the home page that'll provide you with a random, detailed-yet-open-ended prompt to get your brain juices flowing.
There are a few questions we get pretty often in regards to the 50% rule, so let's clarify them right off the bat.
Should I be trying to apply the techniques from Drawabox while working on the 50% rule?
No. Draw in whatever way feels most comfortable to you. Drawabox is designed to have you drawing so much that you will have plenty of mileage to take the lessons and push them down into your subconscious. The lessons will become instinct. Rather, as you play, it's better not to be too stiff and worried about technique. This is the time where you want to just let go.
Do I have to do my 50% rule in pen?
This question comes up simply because we really stress the use of pen and ink when doing the Drawabox lessons. Again, the answer is no. Draw with whatever tools you're interested in using. A lot of students come to Drawabox really interested in digital media, but end up disappointed that we focus so much on traditional tools. I get it — I'm almost strictly a digital artist myself — and we'll get into the reasoning for this later. Rest assured though, you are welcome and even encouraged to dive straight into drawing and painting digitally as soon as you like, for this 50%. This will also have the benefit of helping you get used to the specifics of using those tools, as this is yet another skill that is separate from these core fundamentals of drawing, and will need to be explored at some point.
Third: Can I use reference during the 50% rule time?
This is a difficult one, because the answer is both yes and no. It comes down to understanding your own intentions — are you reaching for reference specifically because you're afraid to draw something badly? If that's the case, if it's something you just would not bother to try without the reference, then no. Draw it however you can, from your imagination, and let it go poorly.
If however you're completely comfortable with that — perhaps after you've done your 50% rule time without reference for a few weeks, just to be sure — you can go ahead and use reference, with one major caveat: you may not simply work from a single reference image, effectively copying it as it is.
This is called a study, and it's a useful drawing exercise that involves copying an object from observation or from a reference photo, in order to learn more about some specific aspect of it. As it is a tool for learning and improving, it falls under the same 50% as Drawabox and whatever other courses, lessons, exercises and tutorials you may be working through.
Instead, you need to make the decisions yourself, and merely use reference to fill in the gaps. For example, you may decide to draw a character astride a tiger, charging through a bazaar. Good luck finding a photo of exactly that to paint from. Instead, you'd find a picture of a tiger running, a person riding a horse, and multiple shots of market stalls, taking parts from each of them and incorporating them into your work.
To be completely clear, there's nothing wrong with reference, and you should not be interpreting the above as "reference is bad and you should never use it". If that's how you interpreted it, then go back and reread the section. Reference is fine - what we're talking about is the first few weeks of the 50% rule, where many students may actively sooth their fears of drawing something badly by hiding behind reference instead of using it as a tool. Once you're not doing that, reference is fine to use as described above.
Pushing yourself just to draw for the hell of it can be a lot harder than it sounds. Here are some course recommendations from New Masters Academy to help you loosen up.
Sheldon Borenstein explores different techniques for pushing past that mental block and just putting marks on the page. I find the topic for Week 4 of his course, "Scribble - the Soul of the Drawing," to be a particularly accessible and effective - after all, everyone can scribble.
Sign up to New Masters Academy with the coupon code DRAWABOX22 — you'll get a full 35% off your first billing cycle.
I get it. This sort of thing is hard to understand - at its core, the 50% rule is about accepting that your mental health is more important than anything, and while society may convince you that you are only as valuable as what you can do, that is quite frankly a lie. Your ability to draw (or lack there of) has nothing to do with who you are as a person - as much as you may want it to - and drawing poorly does not reduce one's worth as a person. Just as in quite the same way, learning how to draw better will not make you a more worthy person.
This may be something you understand on a logical level, but believing it is a life-long task you will need to work at constantly. The 50% rule is, in all honesty, a big part of that.
Here's a list of other videos and resources on this kind of topic that can help you better understand how to think about your own emotions in regards to drawing.
Myself, on Overcoming the Fear of a Blank Page. I talk about how even after a decade of drawing, I still spent most of my time paralyzed in front of a blank canvas - and more importantly, how I finally broke free of that fear.

Steven Zapata, on Personal vs Impersonal Satisfaction in Art (8:34). This talk is about the dangers of associating your successes and failures in individual drawings too closely with your satisfaction (and dissatisfaction) in life.
I will continue to add onto this list as I find other material.
The recommendation below is an advertisement. Most of the links here are part of Amazon's affiliate program (unless otherwise stated), which helps support this website. It's also more than that - it's a hand-picked recommendation of something I've used myself. If you're interested,
here is a full list
.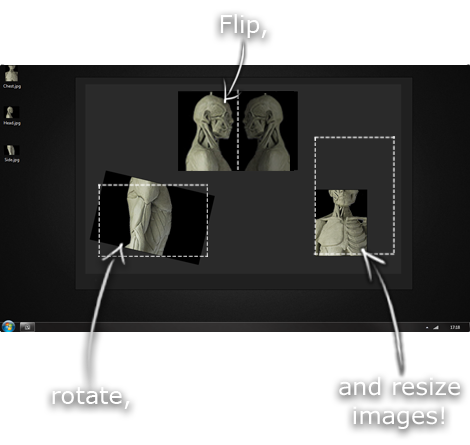 PureRef
This is another one of those things that aren't sold through Amazon, so I don't get a commission on it - but it's just too good to leave out. PureRef is a fantastic piece of software that is both Windows and Mac compatible. It's used for collecting reference and compiling them into a moodboard. You can move them around freely, have them automatically arranged, zoom in/out and even scale/flip/rotate images as you please. If needed, you can also add little text notes.
When starting on a project, I'll often open it up and start dragging reference images off the internet onto the board. When I'm done, I'll save out a '.pur' file, which embeds all the images. They can get pretty big, but are way more convenient than hauling around folders full of separate images.
Did I mention you can get it for free? The developer allows you to pay whatever amount you want for it. They recommend $5, but they'll allow you to take it for nothing. Really though, with software this versatile and polished, you really should throw them a few bucks if you pick it up. It's more than worth it.
Woops! It looks like we updated this page in the last few minutes, and the audio is still generating. Reload the page and try again in a few minutes.
Part One: The Basics

An overview of basic skills - both technical and conceptual - with exercises that you will incorporate into your regular warmups for a long time to come. No matter how skilled or experienced you are, start at Lesson 0.

Challenges and Drills

A series of drills that fit into the lessons at various times. These should not all be completed after lesson 2, but rather will be listed as recommended next steps or prerequisites as you follow the numbered lessons in order.

Part Two: Constructional Drawing

An exploration of how complex objects can be broken down into their fundamental components, then rebuilt from simple forms. We look at this concept of constructional drawing by applying it to many different topics - the focus is not on learning how to draw that specific subject matter, but rather to tackle construction from different perspectives.