Having trouble coming up with something to draw? No worries - while you'll eventually learn how to start from a tiny seed of a thought and gradually nurture it into a complex concept to explore through design and illustration, it's perfectly fine not to be there just yet.
For now though, here's an idea that might interest you.
Decanter of Drowning
Drink and be merry, or so the saying goes. And the merriment shall not cease, for the cup you've been served simply refuses to empty. Worse still, as you stare into your depths you notice that it appears to be bubbling up from the bottom... is it filling itself?
In a sudden panic, you tip it back into your mouth, but it just keeps coming.
Design a beverage container - a cup, a jug, or hell, even a juice box - that fulls itself to overflowing. You might explore the mechanism by which it fills (be it mechanical or magical), the craftsmanship and aesthetic of such an artifact, or even the nature of the beverage itself!
The recommendation below is an advertisement. Most of the links here are part of Amazon's affiliate program (unless otherwise stated), which helps support this website. It's also more than that - it's a hand-picked recommendation of something I've used myself. If you're interested,
here is a full list
.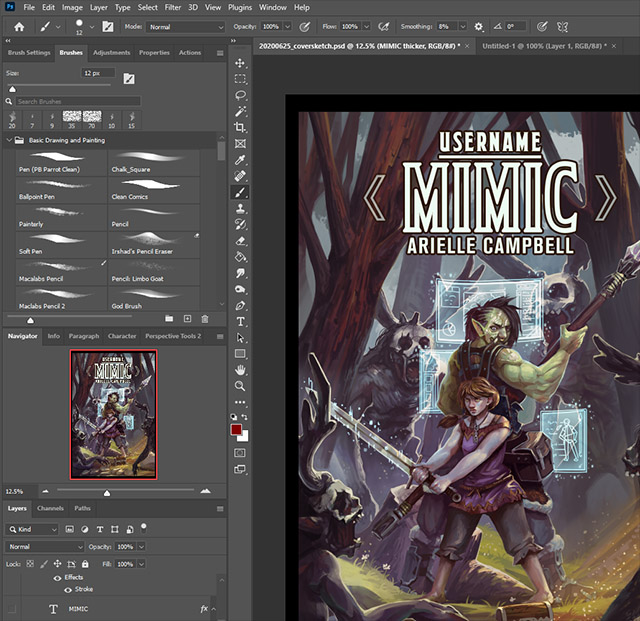 Adobe Photoshop
There are a lot of options for illustration software out there, but mine has always been Adobe Photoshop. I've been using it for nearly 20 years now, ever since I started fooling around with digital art, and it has served me well into my career, both in freelancing and in studio positions. One of the biggest advantages, in my opinion, for those jumping into digital art with Photoshop now is its accessibility. Where when I was younger, it'd cost hundreds, even over a thousand dollars for a software license, younger students can now get their feet wet with industry standard software for just $10/month with their Photography Plan.
Part One: The Basics

An overview of basic skills - both technical and conceptual - with exercises that you will incorporate into your regular warmups for a long time to come. No matter how skilled or experienced you are, start at Lesson 0.

Challenges and Drills

A series of drills that fit into the lessons at various times. These should not all be completed after lesson 2, but rather will be listed as recommended next steps or prerequisites as you follow the numbered lessons in order.

Part Two: Constructional Drawing

An exploration of how complex objects can be broken down into their fundamental components, then rebuilt from simple forms. We look at this concept of constructional drawing by applying it to many different topics - the focus is not on learning how to draw that specific subject matter, but rather to tackle construction from different perspectives.