Having trouble coming up with something to draw? No worries - while you'll eventually learn how to start from a tiny seed of a thought and gradually nurture it into a complex concept to explore through design and illustration, it's perfectly fine not to be there just yet.
For now though, here's an idea that might interest you.
In Memoriam
Loss is difficult, and across the countless cultures humanity has devised over the millennia come equally numerous ways to remember those who have passed on. Many of these involve leaving gifts or tributes - be it at a grave, a designated memorial, or in a sticky puddle of wine poured in libation. When passing through a cemetery, it's not uncommon to see some items left behind by a gravestone. Looking at the objects, have you ever been inclined to guess at the kind of person they were left for? Perhaps amongst the objects themselves hides a clue to who they were.
For this prompt, we will be exploring the idea of a person, but in reverse. Where it is the life one leads and the relationships we foster that determines what will be left in our memory, consider it in the opposite direction. You may choose to design a memorial, a gravesite, a tomb, or other such resting place adorned with leavings and tributes, or you may choose to design the ghost of the character themselves based on a selection of objects that might be left, by which to remember the life they'd led.
Aside: I'll admit that I took some liberties with my example illustration - but remember! These prompts are all a starting point. See where your imagination takes you, and don't be afraid of where it leads.
The recommendation below is an advertisement. Most of the links here are part of Amazon's affiliate program (unless otherwise stated), which helps support this website. It's also more than that - it's a hand-picked recommendation of something I've used myself. If you're interested,
here is a full list
.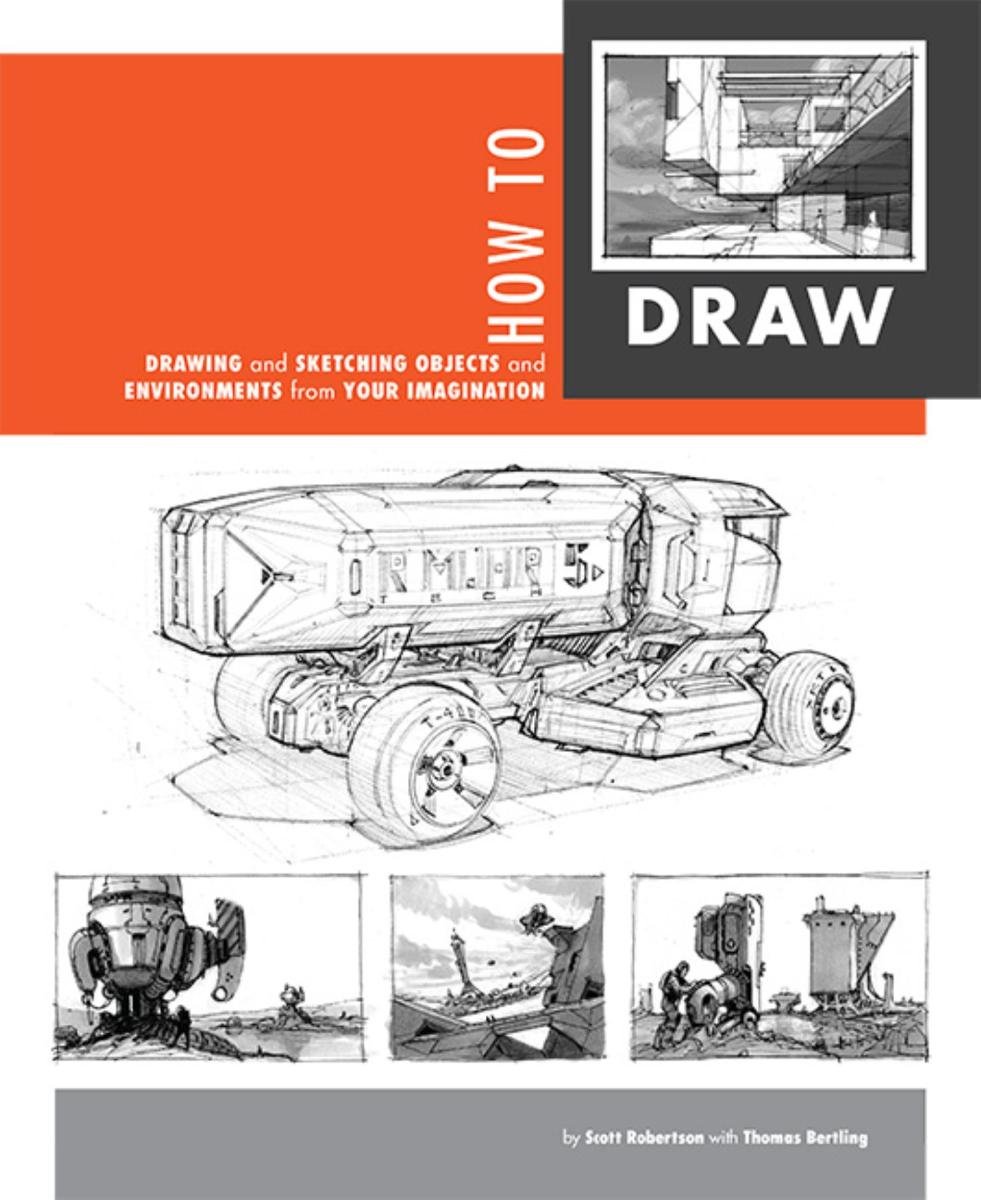 How to Draw by Scott Robertson
When it comes to technical drawing, there's no one better than Scott Robertson. I regularly use this book as a reference when eyeballing my perspective just won't cut it anymore. Need to figure out exactly how to rotate an object in 3D space? How to project a shape in perspective? Look no further.
Part One: The Basics

An overview of basic skills - both technical and conceptual - with exercises that you will incorporate into your regular warmups for a long time to come. No matter how skilled or experienced you are, start at Lesson 0.

Challenges and Drills

A series of drills that fit into the lessons at various times. These should not all be completed after lesson 2, but rather will be listed as recommended next steps or prerequisites as you follow the numbered lessons in order.

Part Two: Constructional Drawing

An exploration of how complex objects can be broken down into their fundamental components, then rebuilt from simple forms. We look at this concept of constructional drawing by applying it to many different topics - the focus is not on learning how to draw that specific subject matter, but rather to tackle construction from different perspectives.