2:39 PM, Monday April 20th 2020
Heyo, TA qzhans here!
Before we begin, I just want to congratulate you on giving those 250 boxes a good ol' pen and ink smackdown. It is a MASSIVE undertaking and you've joined the prestiged club of its completers.
You've painstakingly drawn through all your boxes and extended every single last line out to check your errors, and your boxes have been better for it. Indeed, you've made a marked improvement throughout the set, and your general understanding of convergences is getting pretty solid.
The first advice I can give is to remember that even when reinforcing your lines, draw confident lines using the ghosting method. It seems you started out doing this, resulting in a lot of double lines, and started to reinforce with slower lines, resulting in the disappearance of double lines but the appearance of very wobbly, shaky lines..
Additionally, you have drawn a lot of your boxes quite small. I would say 2-6 boxes is a good number per page, as you want to do some especially big ones. This also allows you to do very flat or long boxes, which you should try.
Also, although you've done a pretty good job with convergences, some of your middle back lines are still stubbornly not jumping in line with the rest of them. That's okay, and is something that gets ironed out over time, but I'll offer some advice. When you go to draw a line, think only about the lines that are supposed to be parallel to it (share a vanishing point). Lines closer to an existing line will converge slower, while the opposite is true for lines further away.
Overall, I like how your understanding of convergences developed over the set. As long as you promise to keep track of your linework, I feel good about waving you onto Lesson 2!
This is an advertisement. Most of the links here are part of Amazon's affiliate program (unless otherwise stated), which helps support this website. It's also more than that - it's a hand-picked recommendation of something I've used myself. If you're interested,
here is a full list
.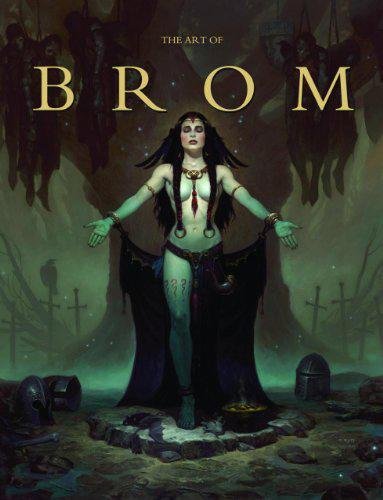 The Art of Brom
Here we're getting into the subjective - Gerald Brom is one of my favourite artists (and a pretty fantastic novelist!). That said, if I recommended art books just for the beautiful images contained therein, my list of recommendations would be miles long.
The reason this book is close to my heart is because of its introduction, where Brom goes explains in detail just how he went from being an army brat to one of the most highly respected dark fantasy artists in the world today. I believe that one's work is flavoured by their life's experiences, and discovering the roots from which other artists hail can help give one perspective on their own beginnings, and perhaps their eventual destination as well.
Part One: The Basics

An overview of basic skills - both technical and conceptual - with exercises that you will incorporate into your regular warmups for a long time to come. No matter how skilled or experienced you are, start at Lesson 0.

Challenges and Drills

A series of drills that fit into the lessons at various times. These should not all be completed after lesson 2, but rather will be listed as recommended next steps or prerequisites as you follow the numbered lessons in order.

Part Two: Constructional Drawing

An exploration of how complex objects can be broken down into their fundamental components, then rebuilt from simple forms. We look at this concept of constructional drawing by applying it to many different topics - the focus is not on learning how to draw that specific subject matter, but rather to tackle construction from different perspectives.