12:38 AM, Monday April 12th 2021
Hi there, I'll be handling your lesson 2 critique.
Just a heads up this critique will be fairly blunt but is in no way a comment on your character or a judgment of you as a person. I bring this up because I believe you may have a been a bit hasty with this lesson and didn't give as much attention to the instructions as you needed, keeping it blunt and getting through it as fast as we can will let you get back to work as soon as possible.
Arrows
Your line work through this lesson is very messy and shows a lack of planning and patience. You have stray marks floating all over and your hatching isn't drawn confidently or with much care.

The width of your arrows is inconsistent which results in them appearing like they're stretching rather than appearing solid. You're also not overlapping your lines enough which flattens your arrows out as shown here.

You're not utilizing foreshortening much at all, you can use it in both the arrows themselves as well as the negative space between the arrow's curves as shown here.
Organic forms with contours
Your forms are much too complex, our goal when creating these forms as is to have both ends be the same size and to avoid any pinching, bloating, or stretching along the form's length as discussed here.

You're not hooking your contour curves back into the form consistently as mentioned here. Instead your contours end at the form, or float aimlessly either inside or outside the form because they're not planned out.

You're not shifting the degree of your contours. The degree of a contour line basically represents the orientation of that cross-section in space, relative to the viewer, and as we slide along the sausage form, the cross section is either going to open up (allowing us to see more of it) or turn away from the viewer (allowing us to see less), as shown here.
Texture
You're drawing from memory rather than observing your reference enough.

You're focused on outlines and not on the cast shadows as instructed

The few times you do draw shadows (in your analysis) they're messily done and don't have clean edges.
Form intersections
Your line quality here could be better, you're suffering from lack of confidence as well.

Your forms look like they need more time being planned in the ghosting stage before you place your pen on the page, your convergences are quite off.

Your boxes were looking much stronger in the box challenge so I know you're capable of better than this.
Organic intersections
Your lines and shadows continue to be a mess in this exercise.

Your forms get a bit too complex and I'd liek you to draw through them all so you develop a better understanding of the 3D space you're trying to create.

Your shadows mostly hug the form creating them and don't behave as if they have a consistent light source.
I apologize if this was upsetting at all, as mentioned at the start I just want to get you through it as fast as I can because I know you're capable of better than this.
There are a lot of issues here that could have been avoided if more time and attention had been given to the instructions and your work.
I'm going to be asking you to redo this lesson.
With that said, I'd like you to re-read and re-complete this lesson. I recommend taking a look at ScyllaStew's videos which you can find here she worked through and recorded some of the lessons and will give you a good representation of how much time should be spent on each exercise. Plenty of people underestimate how much time and effort actually goes into putting in their best attempt, it's not an uncommon mistake so again please don't take this personally.
Once you've completed the lesson, you'll have to create a new submission which will cost you an additional credit (because I'll have to critique it all once again).
I know you can do better than this, and I look forward to seeing your work in the future. Good luck.
ComicAd Network
is an advertising platform built for comics and other creative projects to affordably get the word out about what they're making. We use them for
our webcomic
, and while they don't pay much, we wanted to put one of their ad slots here to help support other creatives.
The recommendation below is an advertisement. Most of the links here are part of Amazon's affiliate program (unless otherwise stated), which helps support this website. It's also more than that - it's a hand-picked recommendation of something I've used myself. If you're interested,
here is a full list
.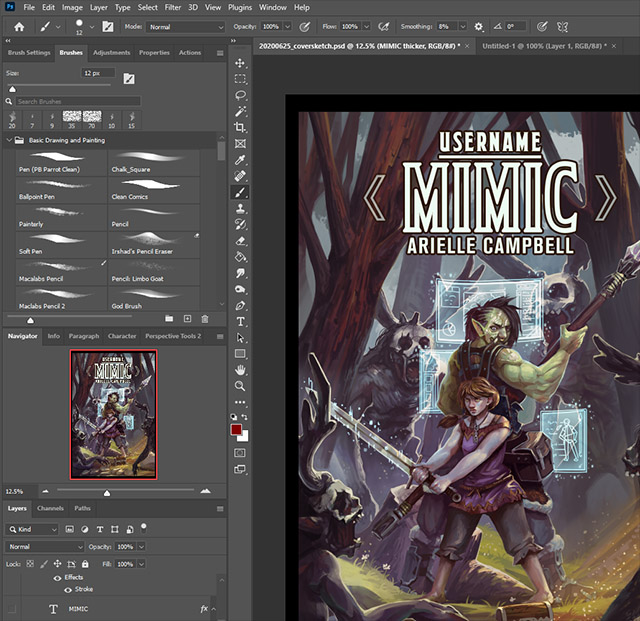 Adobe Photoshop
There are a lot of options for illustration software out there, but mine has always been Adobe Photoshop. I've been using it for nearly 20 years now, ever since I started fooling around with digital art, and it has served me well into my career, both in freelancing and in studio positions. One of the biggest advantages, in my opinion, for those jumping into digital art with Photoshop now is its accessibility. Where when I was younger, it'd cost hundreds, even over a thousand dollars for a software license, younger students can now get their feet wet with industry standard software for just $10/month with their Photography Plan.
Part One: The Basics

An overview of basic skills - both technical and conceptual - with exercises that you will incorporate into your regular warmups for a long time to come. No matter how skilled or experienced you are, start at Lesson 0.

Challenges and Drills

A series of drills that fit into the lessons at various times. These should not all be completed after lesson 2, but rather will be listed as recommended next steps or prerequisites as you follow the numbered lessons in order.

Part Two: Constructional Drawing

An exploration of how complex objects can be broken down into their fundamental components, then rebuilt from simple forms. We look at this concept of constructional drawing by applying it to many different topics - the focus is not on learning how to draw that specific subject matter, but rather to tackle construction from different perspectives.