2:02 AM, Friday April 2nd 2021
Starting with your arrows, these are looking great. You've drawn them with a great sense of fluidity, capturing how they move through all three dimensions of space. This carries over quite nicely into the leaves exercise, where you've not only captured how the leaves sit in space, but also how they move through the space they occupy.
Overall you approached adding edge detail fairly well, though when it comes to adding spiky edges in cases like this leaf, it's better to work additively (building onto the outline of the constructed form) instead of working subtractively (cutting into it). With flat shapes like this, you do have both options and sometimes working subtractively (as you did here) is best, but if you can work additively it's preferable because it doesn't leave extra bits of structure outside of the object itself.
When adding detail, remember the principles covered in lesson 2's texture section, specifically:
Texture is captured by drawing cast shadow shapes. This means thinking about the textural forms which cast the shadows, and how they relate to the surface upon which they're casting. Drawing your textural marks using this two step process - outlining a shadow shape then filling it in - can help you both avoid the urge to just draw texture on with arbitrary lines, and help you think about each cast shadow in relation to the textural forms that are present. It'll also keep you from roughly sketching/hatching your texture on, which leans more into form shading.

And on that point, don't add form shading to your drawings for this course, as discussed here.
Lastly, I think for this leaf, using the complex leaf structure approach explained here would have been preferable, as you're getting more into the arrangement of separate "arms" rather than just little bits cut out of a larger overall leaf.
Continuing onto your branches, overall this is well done, save for one shortcoming - quite literally, your segments are too short. The instructions show that you should be extending each segument fully halfway to the next ellipse, in order to help provide a smoother and more seamless transition from one to the next. Aside from that, you're doing a good job, and I'm pleased to see that you're maintaining a more consistent width through the branch structures' length, which helps make them feel more solid.
Looking at your plant constructions, you have for the most part done a pretty good job, although I did notice a few little hiccups. For example, in some of your flowers (like these daffodils you appear to no longer be attempting to apply all the steps of the leaf construction method. Specifically, you're not using the flow line to help establish how each petal is to move through space before drawing it.
The constructional approach is all about taking a complex problem and breaking it into a series of simpler ones. In this case, as shown with the hibiscus demo, we start with an ellipse to determine the perimeter to which each petal will extend. Then we draw the flow lines such that they each stop at that perimeter, establishing how each petal flows through space. Then each petal is constructed following that flow line, rather than inventing its own trajectory. This simplifies the process so we can focus each step only on solving one problem. Instead of splitting our cognitive capacity across many different problems all at once, we can devote all of it to one, ultimately doing a better overall job of it.
You similarly skip the flow line in the gardenia as well.
For your tomatoes, don't forget to draw through all of your ellipses two full times before lifting your pen. That stands for every ellipse you draw freehand throughout this entire course.
Lastly, two minor points about this drawing. The flower pot is well constructed as a whole, but as a strong recommendation, always construct cylindrical forms around a central minor axis line. This will help you align all the ellipses to one another. I am pleased to see that you did construct multiple ellipses, including an inner one for the opening to define its thickness.
For the soil/dirt inside the pot, as was mentioned back in lesson 2's texture exercises, do not scribble. The drawings done in this course are not about achieving a particular visual result. Each one is an exercise in spatial reasoning. Texture is just another opportunity to work with form and structure, but using implicit textural techniques instead of explicit constructional ones. Capturing texture should rely on understanding the specific forms that are present, rather than just putting down whatever haphazard marks that will give the overall impression. Understanding that will in turn allow you to better grasp how to imply texture as quickly and effectively as possible outside of the course.
All in all, there are a few things for you to keep in mind here, and I expect you'll practice them on your own and as you move forwards. I'm still pleased with your results, so I'll go ahead and mark this lesson as complete.
Next Steps:
This critique marks this lesson as complete.
The recommendation below is an advertisement. Most of the links here are part of Amazon's affiliate program (unless otherwise stated), which helps support this website. It's also more than that - it's a hand-picked recommendation of something I've used myself. If you're interested,
here is a full list
.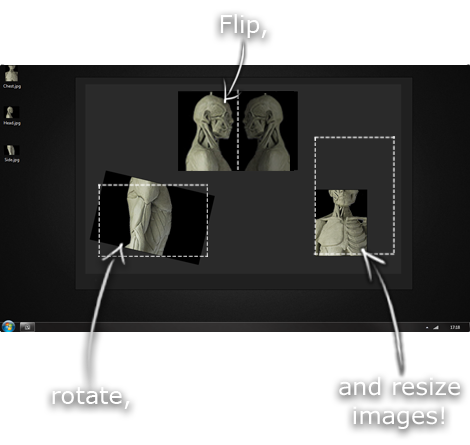 PureRef
This is another one of those things that aren't sold through Amazon, so I don't get a commission on it - but it's just too good to leave out. PureRef is a fantastic piece of software that is both Windows and Mac compatible. It's used for collecting reference and compiling them into a moodboard. You can move them around freely, have them automatically arranged, zoom in/out and even scale/flip/rotate images as you please. If needed, you can also add little text notes.
When starting on a project, I'll often open it up and start dragging reference images off the internet onto the board. When I'm done, I'll save out a '.pur' file, which embeds all the images. They can get pretty big, but are way more convenient than hauling around folders full of separate images.
Did I mention you can get it for free? The developer allows you to pay whatever amount you want for it. They recommend $5, but they'll allow you to take it for nothing. Really though, with software this versatile and polished, you really should throw them a few bucks if you pick it up. It's more than worth it.
Part One: The Basics

An overview of basic skills - both technical and conceptual - with exercises that you will incorporate into your regular warmups for a long time to come. No matter how skilled or experienced you are, start at Lesson 0.

Challenges and Drills

A series of drills that fit into the lessons at various times. These should not all be completed after lesson 2, but rather will be listed as recommended next steps or prerequisites as you follow the numbered lessons in order.

Part Two: Constructional Drawing

An exploration of how complex objects can be broken down into their fundamental components, then rebuilt from simple forms. We look at this concept of constructional drawing by applying it to many different topics - the focus is not on learning how to draw that specific subject matter, but rather to tackle construction from different perspectives.