1:42 PM, Thursday May 7th 2020
Let's see~
The lines section is quite solid. The only recommendation I have is to place start/end points for the non-diagonal center lines of your planes.
The ellipse section is quite nice, as well. Be careful that you're only rotating around your ellipses 2-3 times, ideally 2, as per the instructions, though. Also, in the funnels exercise, be a little more mindful of the minor axis (which should cut your ellipses into two equal, symmetrical halves), their spacing (they should be snug), and their degrees (they should either remain consistent, or increase as they move away from the center.)
The box section is a little more complicated. The first thing I notice is the automatic reinforcing (i.e. correcting an incorrect line.) If you think back to the instructions in the ghosted lines section, this is discouraged. If a line is wrong, it's wrong. The rotated boxes exercise has been done 3 times. Not only is this bad because it counts as grinding, it's also bad because a small drawing doesn't provide you with a lot of space to think about your problems. The exercise itself looks fine, though. Finally, not counting the automatic reinforcing issue, the organic perspective exercise is quite nicely done. Be a tiny bit more mindful of the foreshortening the next time you attempt it, though. A dramatically foreshortened box implies a large scale, or a box that's really close to us, which doesn't fit particularly well in the flow our composition.
There's enough good here to have you move on to the next homework, but definitely make a note of all of the things I mentioned. GL!
Next Steps:
This community member feels the lesson should be marked as complete, and 2 others agree.
The student has earned their completion badge for this lesson
and should feel confident in moving onto the next lesson.
The recommendation below is an advertisement. Most of the links here are part of Amazon's affiliate program (unless otherwise stated), which helps support this website. It's also more than that - it's a hand-picked recommendation of something I've used myself. If you're interested,
here is a full list
.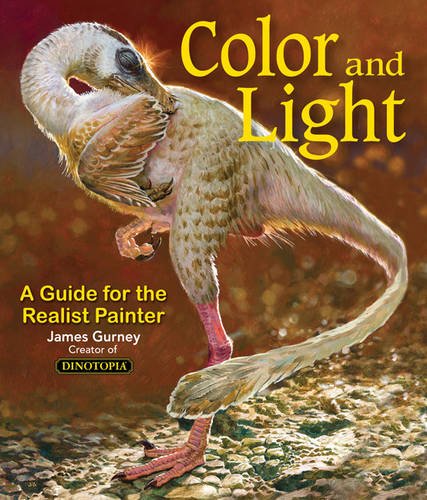 Color and Light by James Gurney
Some of you may remember James Gurney's breathtaking work in the Dinotopia series. This is easily my favourite book on the topic of colour and light, and comes highly recommended by any artist worth their salt. While it speaks from the perspective of a traditional painter, the information in this book is invaluable for work in any medium.
Part One: The Basics

An overview of basic skills - both technical and conceptual - with exercises that you will incorporate into your regular warmups for a long time to come. No matter how skilled or experienced you are, start at Lesson 0.

Challenges and Drills

A series of drills that fit into the lessons at various times. These should not all be completed after lesson 2, but rather will be listed as recommended next steps or prerequisites as you follow the numbered lessons in order.

Part Two: Constructional Drawing

An exploration of how complex objects can be broken down into their fundamental components, then rebuilt from simple forms. We look at this concept of constructional drawing by applying it to many different topics - the focus is not on learning how to draw that specific subject matter, but rather to tackle construction from different perspectives.