7:44 PM, Friday February 5th 2021
Hey hey! I'll be looking through your lesson 1 submission today. Let's take this one exercise at a time, shall we?
The superimposed lines look a lot better in their second page, but, still, there's the occasional insecurity in your lines. Remember that what we're most concerned with here is confidence, not accuracy. What this means is that it's far more important for your lines to be smooth, than it is for them to stick to their guidelines. The ghosted lines show a tend of improvement, too, though I notice that they're a little wobbly in their second halves. Are you decreasing your speed in that section, in an effort to not overshoot? If so, that's incorrect. Again, the priority lies in the smoothness, and straightness of your lines. In pursuit of that, feel free to stop short of, or overshoot the end point.
The ellipses suffer from this, too. They're wobbly, poorly spaced, and pointy. All of those are major problems, so let's tackle them one at a time. The first is an indication that you have your priorities backwards. Here, the goal is for them to be smooth, and rounded, more so than accurate. The second tells me that you're not ghosting enough. Every aspect of your mark, save for its confidence, is decided during the ghosting stage, so if it's lacking there, then the solution is simple. Finally, the third is proof of a lesser pivot poking its nose in where it shouldn't. Always check back to make sure that your marks are originating from your shoulder. Do this often, as beginning students have a habit of moving down the line, subconsciously. The ellipses in planes are similar. Here, be especially careful to maintain their roundness. Hitting all 4 sides of the frame is a secondary goal to it. The funnels exercise is more of the same, unfortunately, though every other aspect of this exercise (the ellipses being snug, and properly cut in half by the minor axis) looks good, so it's just an issue of confidence, now.
The plotted perspective exercise looks clean- nicely done.
For the rough perspective exercise, you've made this, of the common mistakes. It's alright, though. Carefully looking at your lines, shows me that they're definitely making an effort to converge. Definitely don't correct an incorrect line, though. You might remember that being referred to as 'automatic reinforcing', in the ghosted lines page, in the 'don't do this' column… In the ghosted planes page, too, there's a section that might be useful to you, looking at the difference in quality between these lines, and the ones in the ghosted lines/planes exercises.
The rotated boxes exercise looks good. It's big (fairly large positive, even by itself), and you've seen it through to the end. The boxes don't always rotate, and aren't always as snug as we'd like them to be, but this is more than expected. The far planes, too, are at times a little flat, but this is normal. As you progress through the box challenge, you'll learn about certain ways boxes need to behave to be 'correct'; come back to this exercise then, and you'll find that you'll have much improved.
Finally, the organic perspective exercise looks pretty good. Your linework is not quite there, still (we'll work on it in a second), but the boxes properly increase in size, while maintaining a consistent, shallow foreshortening throughout. As a result, the illusion is conveyed quite successfully.
Next Steps:
Before I send you off to the box challenge, I'd like to see:
1 page of the ghosted planes exercise,
1 page of the table of ellipses exercise,
and 1 page of the ellipses in planes exercise, where you prioritize confidence, over accuracy. Good luck!
When finished, reply to this critique with your revisions.
4:48 AM, Tuesday February 9th 2021
Hi! There's improvement here, though none of these exercises are, just yet, where we'd like them to be. That said, as I've seen an attempt to follow the instructions, I will be moving you on to the box challenge. Just, see if you can center your next few warmups around these exercises, and continue pushing in the direction I instructed. For the lines, maintain confidence (a consistent speed) throughout, and for the ellipse prioritize smoothness, and roundness. I see a lot of marks on the page, so it's clear that you're ghosting a bunch; so instead of doing it even more, see if you can instead focus on your attitude at the point of contact. Try to be bold. Trust in the ghosting. Good luck.
Next Steps:
This critique marks this lesson as complete.
The recommendation below is an advertisement. Most of the links here are part of Amazon's affiliate program (unless otherwise stated), which helps support this website. It's also more than that - it's a hand-picked recommendation of something I've used myself. If you're interested,
here is a full list
.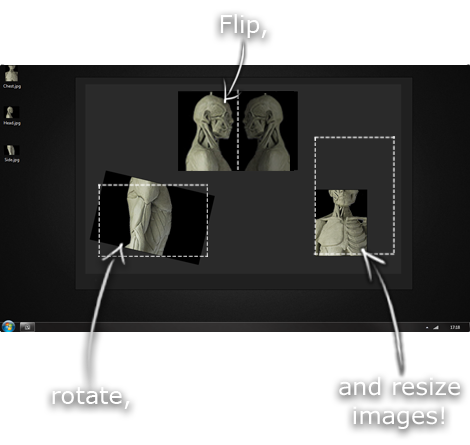 PureRef
This is another one of those things that aren't sold through Amazon, so I don't get a commission on it - but it's just too good to leave out. PureRef is a fantastic piece of software that is both Windows and Mac compatible. It's used for collecting reference and compiling them into a moodboard. You can move them around freely, have them automatically arranged, zoom in/out and even scale/flip/rotate images as you please. If needed, you can also add little text notes.
When starting on a project, I'll often open it up and start dragging reference images off the internet onto the board. When I'm done, I'll save out a '.pur' file, which embeds all the images. They can get pretty big, but are way more convenient than hauling around folders full of separate images.
Did I mention you can get it for free? The developer allows you to pay whatever amount you want for it. They recommend $5, but they'll allow you to take it for nothing. Really though, with software this versatile and polished, you really should throw them a few bucks if you pick it up. It's more than worth it.
Part One: The Basics

An overview of basic skills - both technical and conceptual - with exercises that you will incorporate into your regular warmups for a long time to come. No matter how skilled or experienced you are, start at Lesson 0.

Challenges and Drills

A series of drills that fit into the lessons at various times. These should not all be completed after lesson 2, but rather will be listed as recommended next steps or prerequisites as you follow the numbered lessons in order.

Part Two: Constructional Drawing

An exploration of how complex objects can be broken down into their fundamental components, then rebuilt from simple forms. We look at this concept of constructional drawing by applying it to many different topics - the focus is not on learning how to draw that specific subject matter, but rather to tackle construction from different perspectives.