8:37 PM, Saturday February 27th 2021
Congratulations for completing the 250 Box Challenge!
You did a good job on the challenge overall.
I can see you made some good improvement with the quality of your mark making. Your lines steadily become straighter and more confident looking as you progressed through the challenge. You have made good progress with adding extra line weight to your boxes, I can see that your extra line weight is doing a better job of blending more seamlessly with your original marks as you progress. You drew your boxes at a pretty good size and with a variety of orientations and foreshortening. You also start to do a better job of getting your sets of parallel lines to converge more consistently towards their shared vanishing points!
Before we begin I just want to mention that in the future, when you go to scan your homework submissions, it would be better to scan your homework using the "photo" setting instead of the "drawing" setting. The drawing setting tends to up the contrast on an image and can cause you to lose some of the subtlety in your line work.
I can see that for some of your boxes you went back and tried to fix some mistakes. Remember that when you are working through Drawabox, you should not attempt to fix any mistakes you make. If the line is wrong, we leave it and move onto the next. I would also recommend that you read this comment by Uncomfortable.
I noticed that you still struggle a bit with applying your extra line weight. When you go to add weight to a line it is important that you treat the added weight the same way you would a brand new line. That means taking your time to plan and ghost through your mark so that when you go to execute your extra line weight, it is done confidently and so that it blends seamlessly with your original mark. This will allow you to create more subtle and clean looking weight to your lines that reinforces the illusion of solidity in your boxes/forms. Extra line weight should be applied to the silhouette of your boxes. I recommend that you try adding your extra line weight in no more than 1-2 pases. This diagram should help you better understand how to properly apply your extra line weight.
Extra line weight should never be used to correct or hide mistakes. Something to keep in mind as well, when you are working through Drawabox you should be employing the ghosting method for every mark you make. This includes the hatching that we sometimes use for our boxes.
Some of your boxes were drawn a bit small. Part of the reason for the 5-6 boxes per page rule is so that students have enough room to draw their boxes larger while having room to check their convergences. By drawing your boxes very small you limit your own ability to execute your lines from the shoulder confidently, which affects the quality of your mark making. Drawing bigger also helps engage your brain's spatial reasoning skills, whereas drawing smaller impedes them. It isn't a problem if your line extensions end up touching other boxes on the page so long as the boxes themselves do not touch or overlap. This should give you enough room to draw your boxes at a larger, more useful size.This, along with varying your foreshortening and orientations of your boxes, will help you get the most out of the exercise.
For some of your boxes, you appear to have purposely tried to keep your sets of lines parallel on the 2D page, drawing them all to an "infinite" vanishing point. As explained in this section, because these boxes are oriented with us looking at the corner of the box, you should be drawing your boxes in 3 point perspective - meaning with 3 concrete vanishing points, each set of lines converging towards a real point in space, even if that point is far off and the convergence is gradual. At no point in the instructions does it state that you should draw your boxes without any foreshortening. All of the boxes you draw will have some foreshortening even if the convergence is very gradual. The circumstances in which vanishing points go to "infinite" as discussed in lesson 1 are only in specific orientations that run parallel to the viewer. In this exercise we are working with completely random rotations and so those cases are exceedingly rare. You can also watch this video I made where I demonstrate how I approach drawing boxes.
To clarify, when I say "sets of parallel lines" or refer to your sets of lines as parallel, I am referring to lines that are parallel in 3d space not parallel on the page. If you remember from lesson one, the core principle of perspective is that when we draw a 3d form on a flat surface those lines that are parallel in 3d will now converge towards a shared vanishing point on the page.
Which means your sets of lines will not appear perfectly parallel on the page. Think about how those lines converge, do not purposely try to keep them parallel on the page.
Finally while your converges do improve overall I think this diagram will help you as well. When you are looking at your sets of lines you want to be focusing only on the lines that share a vanishing point. This does not include lines that share a corner or a plane, only lines that converge towards the same vanishing point. Now when you think of those lines, including those that have not been drawn, you can think about the angles from which they leave the vanishing point. Usually the middle lines have a small angle between them, and this angle will become negligible by the time they reach the box. This can serve as a useful hint.
Congrats again and good luck with lesson 2!
Next Steps:
This critique marks this lesson as complete.
ComicAd Network
is an advertising platform built for comics and other creative projects to affordably get the word out about what they're making. We use them for
our webcomic
, and while they don't pay much, we wanted to put one of their ad slots here to help support other creatives.
The recommendation below is an advertisement. Most of the links here are part of Amazon's affiliate program (unless otherwise stated), which helps support this website. It's also more than that - it's a hand-picked recommendation of something I've used myself. If you're interested,
here is a full list
.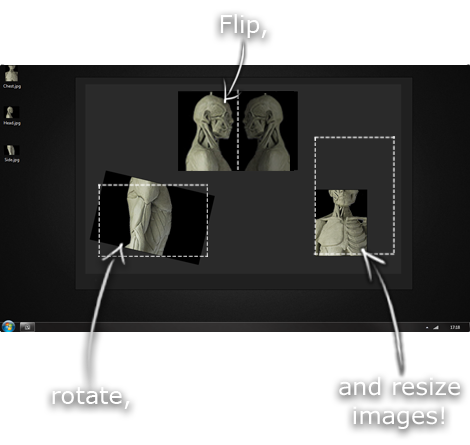 PureRef
This is another one of those things that aren't sold through Amazon, so I don't get a commission on it - but it's just too good to leave out. PureRef is a fantastic piece of software that is both Windows and Mac compatible. It's used for collecting reference and compiling them into a moodboard. You can move them around freely, have them automatically arranged, zoom in/out and even scale/flip/rotate images as you please. If needed, you can also add little text notes.
When starting on a project, I'll often open it up and start dragging reference images off the internet onto the board. When I'm done, I'll save out a '.pur' file, which embeds all the images. They can get pretty big, but are way more convenient than hauling around folders full of separate images.
Did I mention you can get it for free? The developer allows you to pay whatever amount you want for it. They recommend $5, but they'll allow you to take it for nothing. Really though, with software this versatile and polished, you really should throw them a few bucks if you pick it up. It's more than worth it.
Part One: The Basics

An overview of basic skills - both technical and conceptual - with exercises that you will incorporate into your regular warmups for a long time to come. No matter how skilled or experienced you are, start at Lesson 0.

Challenges and Drills

A series of drills that fit into the lessons at various times. These should not all be completed after lesson 2, but rather will be listed as recommended next steps or prerequisites as you follow the numbered lessons in order.

Part Two: Constructional Drawing

An exploration of how complex objects can be broken down into their fundamental components, then rebuilt from simple forms. We look at this concept of constructional drawing by applying it to many different topics - the focus is not on learning how to draw that specific subject matter, but rather to tackle construction from different perspectives.