3:02 PM, Tuesday January 10th 2023
Hi, I'll be giving my feedback for your 250 boxes challenge. First and foremost, congratulations on finishing this challenge!
The lines you did were confident, not a lot of wobble from what I have seen. Though sometime they would not reach the end point of where you are aiming. Not all of them, just a few.

I appreciate the variety of foreshortening at earlier boxes. Usually people would go with shallow foreshorterning first before doing dramatic, but I'm impressed that you tried doing dramatic first. Even thought they might look wobbly or like a trapezoid, it would have been much better if you kept on trying and not just stop at the beginning. After those mistakes, you seem to be afraid to do anymore of them and instead stick to shallow foreshorterning instead. We are all here to make mistake, that way we can learn to improve. So don't be afraid to fail :D

Some of the extended lines were not long enough. Even if the extended lines are converging not on the location you are aiming for, it is good practice to just extend it. That way you can know where you land currently and from there work your way toward your goal. If you do your extension lines after a page of boxes, those lines are not going to bother you that much. My page looked ugly with extension lines hitting one another, but it helped me to visualise where I'm currently at.

I think the glaring issues I see from this homework is that you seem to repeat the same mistake over and over again. The learning process is something that is hard to explain in words, but generally you should always look at where you currently are and where you are heading. I saw a major improvement from the early boxes (10-50) before finally stagnating. The angles you drew started to become similar and eventually you just keep repeating the same mistake. Around boxes 100-250, majority of the boxes had a very wide convergences. I can see some one or two axes of extended lines converge on the same spot, but the majority were not. Additionally, with how short your lines extension, it's hard to know where your lines are converging, making it hard for you to calibrate yourself to your goal.

I know this exercise might feel boring to do and that I had a feeling that you are in a rush (Seeing how box no 115-116 didn't have any line extension), but learning is a slow process. So take things a bit slow and try to put more effort before your pen touch the paper. Maybe putting a dot as a vanishing point and then use the ghosting method (kinda like how you do your rough perspective homework on lesson 1)
So I wanted you to do a quick little revision for this exercise. Don't worry, you are not going to draw 250 boxes again.
Next Steps:
I want you to do 2 pages of boxes, maybe around 5 boxes per page.
I want you to put a lot more thought into each box you draw. You are going to make mistake on the first box, but that's ok. I want you to take what you think is wrong from the first one and try to fix it on the second box. Keep iterating until you fill both pages. You can use the Y generator on the homework pages to get a bit more variety on your foreshortening.

Don't forget to extend the lines a bit longer, ideally until those lines started to diverge from one another. If those are too far, then it can't be helped. But I want you to understand where you currently are that way you can improve on your own.

I don't really care about how pretty the boxes look, I want you to try and make some mistakes along the way. We are here to learn, so don't worry about how pretty and clean your boxes are going to look.
When finished, reply to this critique with your revisions.
3:02 PM, Wednesday January 11th 2023
First of all, thank you very much for the review which is really appreciated.
Secondly, I will do the 2 pages tomorrow and return them to you.
11:22 PM, Thursday January 12th 2023
Hi,
I could see improvement in your boxes. Which is what I hoped to see. Just remember to check your previous drawing and then try to learn from what you can improve. I'm gonna mark this as complete. You can move on to the next lesson!
This community member feels the lesson should be marked as complete, and 4 others agree. The student has earned their completion badge for this lesson and should feel confident in moving onto the next lesson.
9:50 AM, Friday January 13th 2023
The recommendation below is an advertisement. Most of the links here are part of Amazon's affiliate program (unless otherwise stated), which helps support this website. It's also more than that - it's a hand-picked recommendation of something I've used myself. If you're interested,
here is a full list
.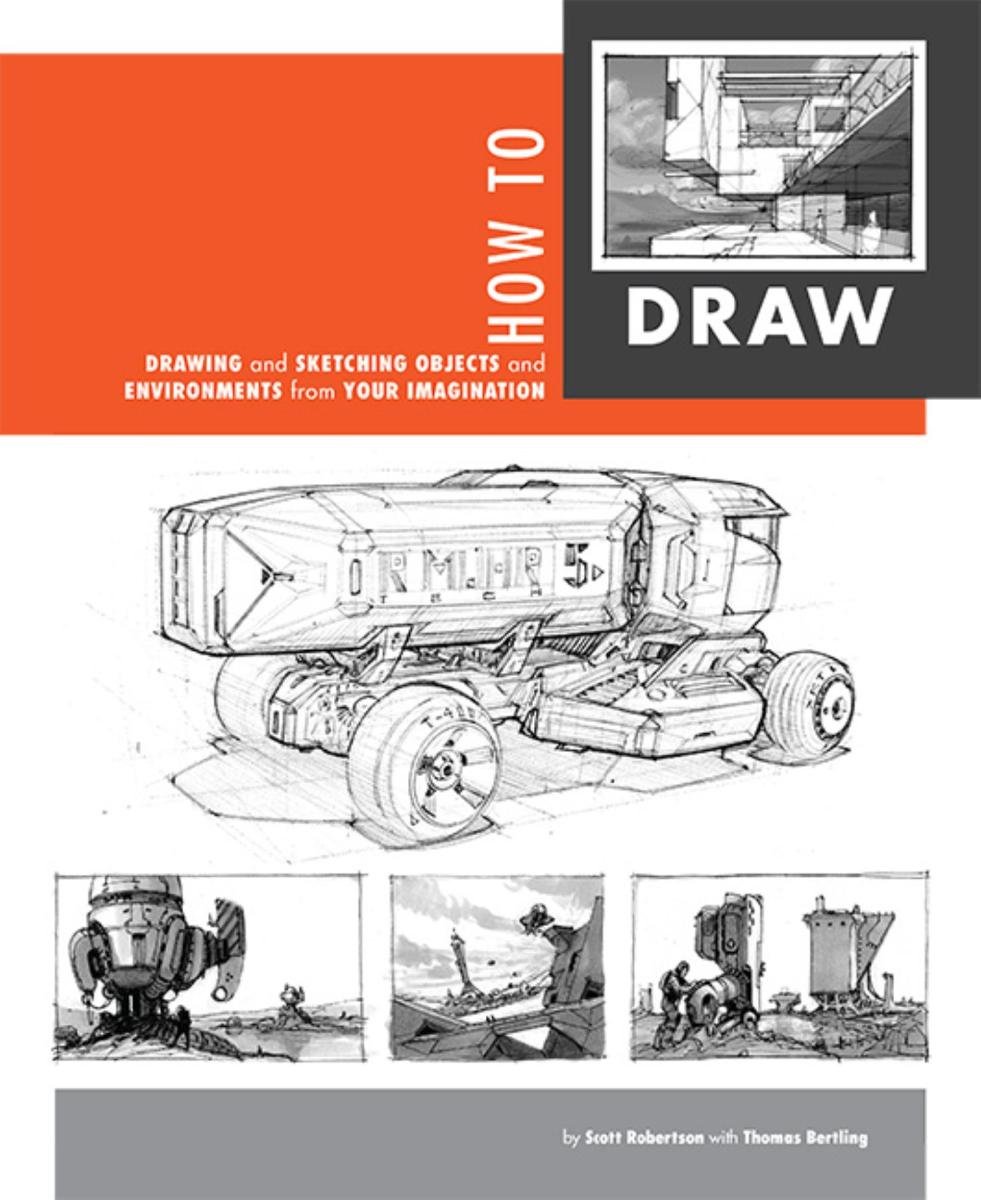 How to Draw by Scott Robertson
When it comes to technical drawing, there's no one better than Scott Robertson. I regularly use this book as a reference when eyeballing my perspective just won't cut it anymore. Need to figure out exactly how to rotate an object in 3D space? How to project a shape in perspective? Look no further.
Part One: The Basics

An overview of basic skills - both technical and conceptual - with exercises that you will incorporate into your regular warmups for a long time to come. No matter how skilled or experienced you are, start at Lesson 0.

Challenges and Drills

A series of drills that fit into the lessons at various times. These should not all be completed after lesson 2, but rather will be listed as recommended next steps or prerequisites as you follow the numbered lessons in order.

Part Two: Constructional Drawing

An exploration of how complex objects can be broken down into their fundamental components, then rebuilt from simple forms. We look at this concept of constructional drawing by applying it to many different topics - the focus is not on learning how to draw that specific subject matter, but rather to tackle construction from different perspectives.