2:11 AM, Monday July 12th 2021
As a whole I think you've done a pretty good job here. Starting with your cylinders around arbitrary minor axes, you're definitely showing a lot of care in analyzing and identifying your 'true' minor axis alignment, and I can see the margins of error shrinking over the course of the set, even for those particularly challenging wider ellipses - except for maybe that last page of this section, where your ellipses go off their alignment more often. But I don't put much stock in outliers, so i'm not too concerned about that.
I did however notice that your linework can be a touch hesitant/wobbly at times however, which impacts both your straight edges and your ellipses at times. The key point here to remember is that you should still be employing the ghosting method for every single mark you draw, specifically to ensure that the markmaking process is separated into planning, preparation, and execution phases, and that your execution is done confidently and without hesitation. When we slip away from that process, it becomes very easy to try to invest more time just into the execution of the mark, which is where we end up drawing a little more slowly/carefully - which is another way to describe hesitation. All the time should be invested in the planning and preparation steps of the process.
Aside from that, I can see that the way you choose how to draw your ellipses - specifically the relationship between the degree and scale of either end of the forms shows a strong understanding of how foreshortening manifests in both of these properties. That is, that shallow foreshortening manifests in a minimal shift in both scale and degree from one end to the other, and more dramatic foreshortening manifests in a more dramatic shift in both. Going through your work, I'm not seeing cases of the fairly common mistake students make, where they end up with a more dramatic shift in the scale of the ellipses (far end being much smaller than the closer end), paired with a more minimal shift in degree (far end isn't much wider than the closer end), or vice versa. Yours always shift in tandem, which is exactly what I want to see.
Continuing onto your cylinders in boxes, I think here you've done a great job of applying the complex error checking approach, and to great effect. This exercise is really more about the boxes themselves - through this repetition, we develop a greater intuition and instinct for drawing boxes that feature two opposite faces which are proportionally square.
We achieve this by taking the line extensions from the box challenge, and adding the lines from each ellipse. In checking how far off the ellipses' lines (the minor axis and the two contact point lines) are from converging towards the box's own vanishing points, which in turn tells us how far off those ellipses are from representing proper circles in 3D space. In turn, this tells us how far off we are from the planes that enclose them representing squares in 3D space.
From what I can see, your estimation of these proportions is coming along quite well, and while the line extensions show there is still plenty of room for improvement, that is totally normal. What's important is that you're moving in the right direction. If there's one thing you should keep an eye on, it's the longer cylinders. With these, you have a tendency to let lines defining the planes at the far ends of the form converge in pairs, rather than having all 4 lines of a given set converge together. So be sure to keep an eye on that when practicing this in the future.
So! I'll go ahead and mark this challenge as complete.
Next Steps:
Feel free to move onto lesson 6.
This critique marks this lesson as complete.
The recommendation below is an advertisement. Most of the links here are part of Amazon's affiliate program (unless otherwise stated), which helps support this website. It's also more than that - it's a hand-picked recommendation of something I've used myself. If you're interested,
here is a full list
.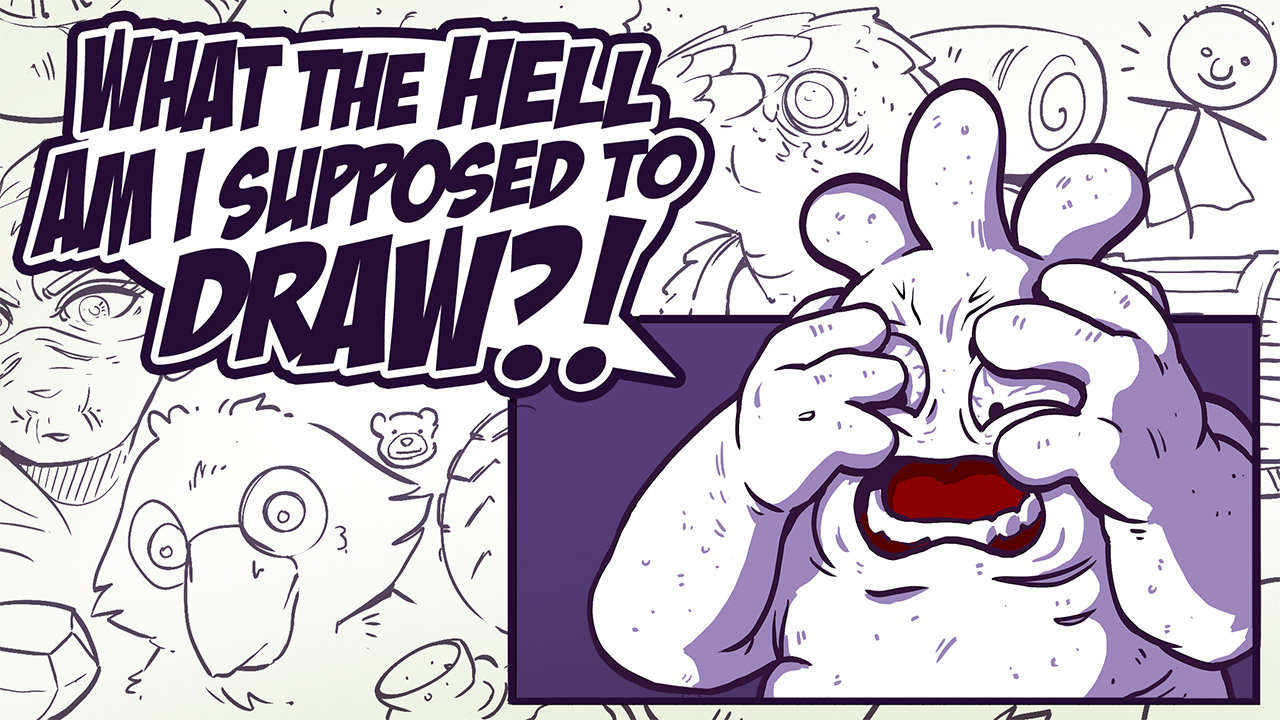 The Science of Deciding What You Should Draw
Right from when students hit the 50% rule early on in Lesson 0, they ask the same question - "What am I supposed to draw?"
It's not magic. We're made to think that when someone just whips off interesting things to draw, that they're gifted in a way that we are not. The problem isn't that we don't have ideas - it's that the ideas we have are so vague, they feel like nothing at all. In this course, we're going to look at how we can explore, pursue, and develop those fuzzy notions into something more concrete.
Part One: The Basics

An overview of basic skills - both technical and conceptual - with exercises that you will incorporate into your regular warmups for a long time to come. No matter how skilled or experienced you are, start at Lesson 0.

Challenges and Drills

A series of drills that fit into the lessons at various times. These should not all be completed after lesson 2, but rather will be listed as recommended next steps or prerequisites as you follow the numbered lessons in order.

Part Two: Constructional Drawing

An exploration of how complex objects can be broken down into their fundamental components, then rebuilt from simple forms. We look at this concept of constructional drawing by applying it to many different topics - the focus is not on learning how to draw that specific subject matter, but rather to tackle construction from different perspectives.