3:44 AM, Wednesday March 18th 2020
Starting with your form intersections, fantastic work. You've really gotten a strong grasp of how these forms interact with one another in 3D space, and the confidence with which you've drawn the forms and their intersections is really stellar. Admittedly you were pretty good with these even back in lesson 2, but it's still very impressive to see here.
Moving onto your actual object constructions, you're demonstrating a solid understanding of many of the concepts covered in the lesson, and a generally successful use of form that has resulted in objects that feel heavy and tangible. You started off decently, though the execution of some of the lines that make up your chair were a little shaky. You quickly recovered however into your toaster, whose gently rounded edges were precise and specific - no sense of getting lost in vague curves here.
I'm quite fond of this one (though I can't quite pin down what it is - some kind of audio recording equipment?), with the use of cylinders looking quite good. That said, I think you ended up putting yourself at a bit of a disadvantage by not first establishing boxes for the cylindrical knobs. The resulting ellipses actually ended up being quite slanted. If we were to enclose them in a plane and to test the points at which the ellipses would touch that plane above and below, those contact points would be lined up at an angle, instead of running straight up and down. As such, the eye picks up on how these knobs seem somewhat more squashed, not actually representing proper circles in 3D space.
At a glance, the ellipses here are much better laid out, and feel more believably circular in their nature, when compared against the implied vanishing points and other established perspective elements in the scene. Your use of concentric ellipses here is also very well executed.
Honestly, even this one which felt much more loosely approached compared to the others, demonstrates a lot of comfort with this kind of construction. I still might have dinged you for not being more conscientious with the constructional process as a whole (being that this lesson's all about the drawings being exercises, and therefore we should go to every length with each and every one) if you didn't end on such a high note with this beautiful construction. I'm not even sure what it is, but you didn't spare much in the way of patience with it. That said, I am noticing that the cylinder across the top appears to be out of alignment with the rest. The way it's drawn however makes me wonder if that's actually intentional.
Anyway! All in all, really well done. Continue working on your ellipses and their top/bottom contact points, but keep up the great work. I'll go ahead and mark this lesson as complete.
Next Steps:
Feel free to move onto the 25 wheel challenge.
This critique marks this lesson as complete.
This is an advertisement. Most of the links here are part of Amazon's affiliate program (unless otherwise stated), which helps support this website. It's also more than that - it's a hand-picked recommendation of something I've used myself. If you're interested,
here is a full list
.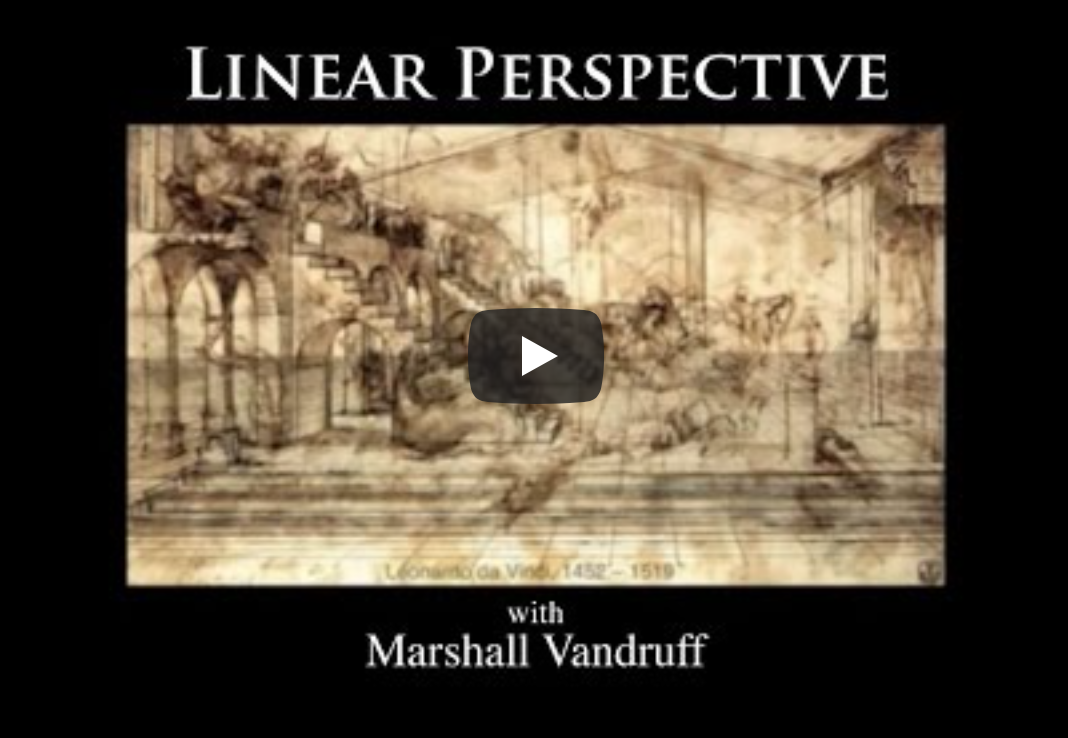 Marshall Vandruff's Linear Perspective Videos
Despite their age, Marshall Vandruff's videos on Linear Perspective are some of the best lectures on all the ins and outs of perspective, and as an instructor, he is highly respected across the board. He goes into a lot of the intricacies that I don't touch on in much depth (at least, not if I can help it).
On top of being some of the best, his lectures are also among the most accessible, at the full 8 hour set for $12.00. There's literally no reason not to grab them.
Part One: The Basics

An overview of basic skills - both technical and conceptual - with exercises that you will incorporate into your regular warmups for a long time to come. No matter how skilled or experienced you are, start at Lesson 0.

Challenges and Drills

A series of drills that fit into the lessons at various times. These should not all be completed after lesson 2, but rather will be listed as recommended next steps or prerequisites as you follow the numbered lessons in order.

Part Two: Constructional Drawing

An exploration of how complex objects can be broken down into their fundamental components, then rebuilt from simple forms. We look at this concept of constructional drawing by applying it to many different topics - the focus is not on learning how to draw that specific subject matter, but rather to tackle construction from different perspectives.