3:01 PM, Tuesday November 2nd 2021
Hiya, welcome to your first step in the DrawAbox course! I'll be taking the helm of giving you your critique today.
Lines
Gotta be honest, these are extremely wobbly and poor. There is rarely any sense of confidence I can feel from them and more just complete hesitation when you should've been ghosting them, that was the whole point of the exercise. This extends to the planes aswell, complete wobble of the pen in your strokes.
Ellipses
The wobble in these are less noticable but despite they're still present at times. There's atleast more possible evidence you tried to ghost these, and you also drew through your ellipses a second time so that's a good job on your end. You also have some space where the ellipse doesn't reach the edges of the space it's meant to fill, but that comes with time.
Boxes
Funny enough, you actually seem to shine in these. Your rough perspective consistently reaches the vanishing point in a reasonable manner, and your rotated boxes are a very solid attempt even if the very outer edges start to fall apart at the corners and some corners could be closer.
Next Steps:
You really need to work on those lines, and also you didn't do the Organic perspective exercise like at all. So, I ask of you to do:
1 additional page of Ghosted Lines
1 additional page of Ghosted Planes
and a full submission of Organic Perspective
When finished, reply to this critique with your revisions.
The recommendation below is an advertisement. Most of the links here are part of Amazon's affiliate program (unless otherwise stated), which helps support this website. It's also more than that - it's a hand-picked recommendation of something I've used myself. If you're interested,
here is a full list
.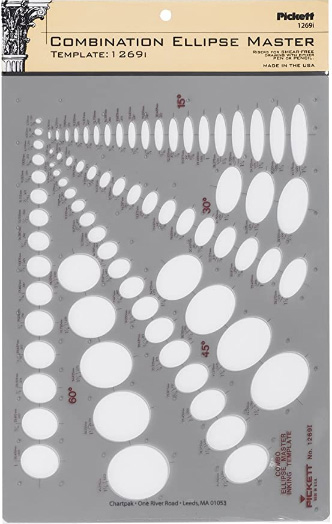 Ellipse Master Template
This recommendation is really just for those of you who've reached lesson 6 and onwards.
I haven't found the actual brand you buy to matter much, so you may want to shop around. This one is a "master" template, which will give you a broad range of ellipse degrees and sizes (this one ranges between 0.25 inches and 1.5 inches), and is a good place to start. You may end up finding that this range limits the kinds of ellipses you draw, forcing you to work within those bounds, but it may still be worth it as full sets of ellipse guides can run you quite a bit more, simply due to the sizes and degrees that need to be covered.
No matter which brand of ellipse guide you decide to pick up, make sure they have little markings for the minor axes.
Part One: The Basics

An overview of basic skills - both technical and conceptual - with exercises that you will incorporate into your regular warmups for a long time to come. No matter how skilled or experienced you are, start at Lesson 0.

Challenges and Drills

A series of drills that fit into the lessons at various times. These should not all be completed after lesson 2, but rather will be listed as recommended next steps or prerequisites as you follow the numbered lessons in order.

Part Two: Constructional Drawing

An exploration of how complex objects can be broken down into their fundamental components, then rebuilt from simple forms. We look at this concept of constructional drawing by applying it to many different topics - the focus is not on learning how to draw that specific subject matter, but rather to tackle construction from different perspectives.