billybob12
Joined 2 months ago
200 Reputation
billybob12's Sketchbook

7:58 PM, Monday August 30th 2021

ok sure i'll do that! thanks again for all the help :D

9:17 PM, Sunday August 29th 2021

if its not too much trouble do you mind doing an example of this process so i can see it better? or if theres any more videos or resources i can take a look at to get a better picture of what im suppose to do? sorry for the trouble!

2:48 PM, Sunday August 29th 2021

thanks i havent seen this channel before but it seems pretty useful! (i'll try and take a look over the next few days) he seemed to just be skimming thru and not showing the entire drawing process of it

https://gyazo.com/3badad8befedeff4174f1438f8b201d9

if you dont mind, for example if i wanted to improve my propotions and other things with this drawing, what sort of specific process or steps should i take in order to go about this so i actually improve? (sorry im usually not very smart with this kinda stuff and i need explanions + details)

i assume its just sort of "oh the shape of the eye is wrong or theres too much space in between both eyes" according to the reference

then id re-draw the correct eye by hand overtop of my actual drawing (with opacity down)? but just want to confirm in-case im misunderstanding anything!

8:30 PM, Saturday August 28th 2021

hi thanks a lot for the reply! im not sure what you mean by

"re-draw what you have done using both your drawing and the original as references. This should provide you with an improved iteration of your drawing. Repeat if you like."

do you mean just, re-drawing it once again but looking at my drawing + reference to see where i went wrong?
ComicAd Network
is an advertising platform built for comics and other creative projects to affordably get the word out about what they're making. We use them for
our webcomic
, and while they don't pay much, we wanted to put one of their ad slots here to help support other creatives.
The recommendation below is an advertisement. Most of the links here are part of Amazon's affiliate program (unless otherwise stated), which helps support this website. It's also more than that - it's a hand-picked recommendation of something I've used myself. If you're interested,
here is a full list
.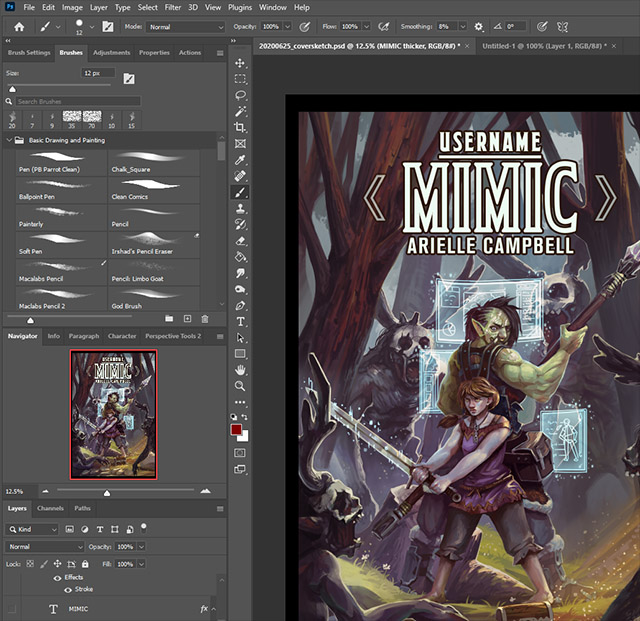 Adobe Photoshop
There are a lot of options for illustration software out there, but mine has always been Adobe Photoshop. I've been using it for nearly 20 years now, ever since I started fooling around with digital art, and it has served me well into my career, both in freelancing and in studio positions. One of the biggest advantages, in my opinion, for those jumping into digital art with Photoshop now is its accessibility. Where when I was younger, it'd cost hundreds, even over a thousand dollars for a software license, younger students can now get their feet wet with industry standard software for just $10/month with their Photography Plan.
Part One: The Basics

An overview of basic skills - both technical and conceptual - with exercises that you will incorporate into your regular warmups for a long time to come. No matter how skilled or experienced you are, start at Lesson 0.

Challenges and Drills

A series of drills that fit into the lessons at various times. These should not all be completed after lesson 2, but rather will be listed as recommended next steps or prerequisites as you follow the numbered lessons in order.

Part Two: Constructional Drawing

An exploration of how complex objects can be broken down into their fundamental components, then rebuilt from simple forms. We look at this concept of constructional drawing by applying it to many different topics - the focus is not on learning how to draw that specific subject matter, but rather to tackle construction from different perspectives.